Avial – Mixed Vegetable Stew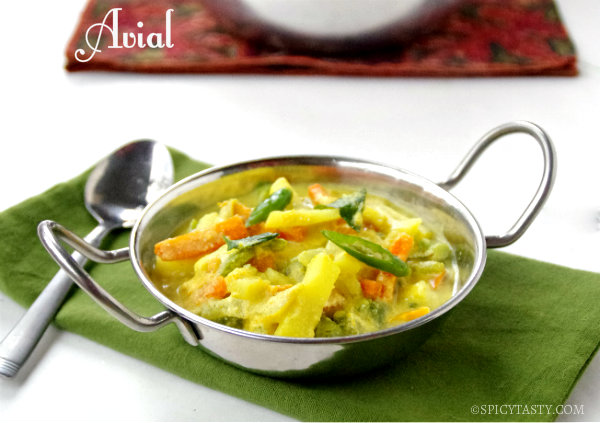 Avial is a delicious South Indian stew made by cooking vegetables in a coconut gravy. Avial is made during special occasions and festivals such as Onam. Avial and adai (Rice & Grain Pancake) is a famous combination served for breakfast or dinner. Avial is also served with rice.
Preparation time: 30 minutes
No. of servings: 4
Spice level: 2 out of 5
Ingredients:
Vegetables – 2 cups (potato, carrot, beans, winter melon, pumpkin)
Grated coconut – 1/2 cup
Green chilies – 2
Cumin seeds – 1 tsp
Oil – 1 tsp
A few curry leaves (8 to 10)
Yogurt – 1 cup
Coconut oil – 3 to 4 drops
Method of Preparation:
Cut vegetables into 1″ pieces.
Boil vegetables in a sauce pan or kadai with 1/2 cup of water and salt until vegetables become tender.
Grind coconut, cumin seeds and green chillies with a little water to a fine paste.
Add this to the cooked vegetables along with curry leaves.
Mix well and cook for 5 minutes and turn off the heat.
Add yogurt, mix well and finish with 3 to 4 drops of coconut oil.
Avial is ready to serve.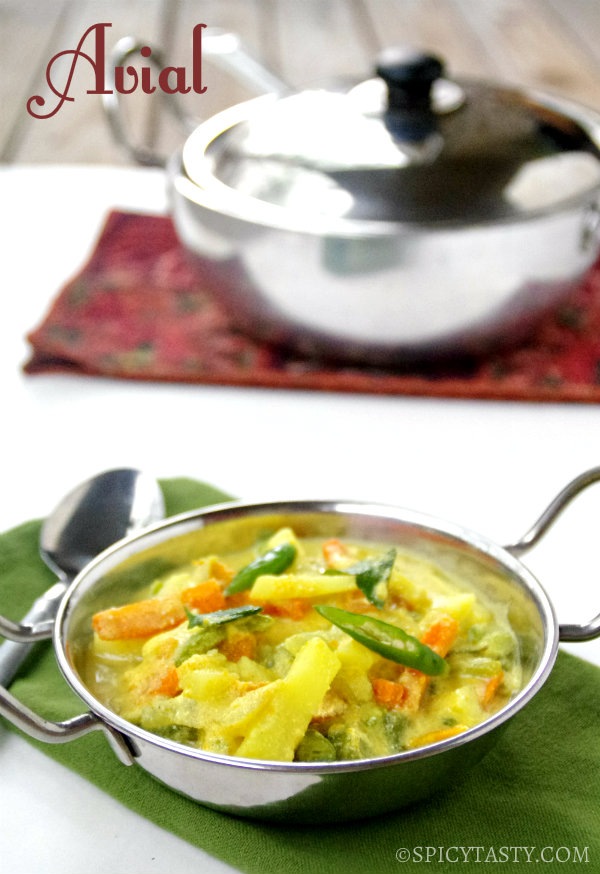 Note: You can also add or substitute other vegetables such as raw plantain, drumstick, yam, okra, chayote, etc.