Egg adai kozhambu – Omelete curry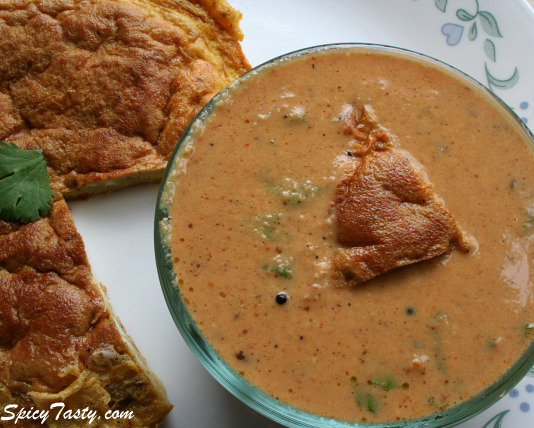 I have moved to Arkansas recently. I got some new friends and here is the chance to learn more new dishes. One of my friends here made this Egg adai kozhambu. Usually I will make the egg curry with eggs. When my friend made this, I feel it is very different and I asked her the recipe. It is very easy to make and I tried this. It came out very well and we can have it with rice or dosa.
Preparation time: 20 minutes
No of Servings: 2-3
Spice level 3 out of 5
Ingredients:
Eggs-3
Mustard seeds-1/2 tsp
Curry leaves-a few
Onion-1/2(finely chopped)
Turmeric-1/4 tsp
Oil-1 tbsp
Masala to grind:
Cumin seeds-1 tsp
Pepper-1/4 tsp
Red chillies-3 to 4
Split roasted gram(Dalia)-2 tbsp
Coconut-2/3 cup
Method of preparation:
Heat 1tsp oil in a pan and fry cumin seeds, pepper and red chillies.
Then grind them with the split roasted gram to fine powder.
Beat the eggs and add 3tsp of this powder and very little salt.
Then make it like an omelet.
To the remaining ground powder add little water and the coconut and grind it to make it as a paste.
Heat oil in a pan and add the mustard seeds, curry leaves followed by the onion and salt.
Fry it till it becomes translucent and add the turmeric.
Add the ground paste and add some water.
Allow it to boil for 5 minutes.
Cut the omelet to small pieces and add them 15 minutes before serving else the omelet pieces will absorb the gravy.