Kimbap (Korean Sushi Rolls)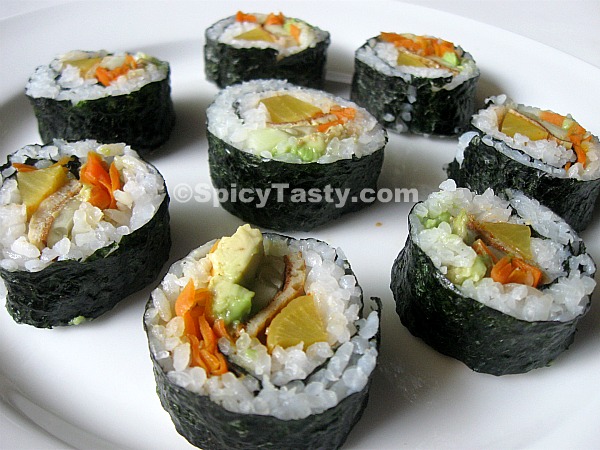 From Wikipedia:
Gimbap or kimbap is a popular Korean dish made from steamed white rice (bap) and various other ingredients, rolled in gim (sheets of dried laver seaweed) and served in bite-size slices. The basic components of gimbap are rice, meat or other protein-rich ingredients, and a large variety of vegetables, pickled, roasted, or fresh.

Short grain white rice is usually used, although short-grain brown rice, like olive oil on gim, is now becoming more widespread among the health-conscious. Rarely, sweet rice is mixed in gimbap rice.

Gim is dried, pressed seaweed made from the edible species, laver. Gim may be roasted and seasoned with oil and salt, roasted but unseasoned, or raw and unseasoned. For kimbap, the roasted, unseasoned variation is typically used.Gim is known to be abundant in protein and vitamins, especially vitamins A, B1, B2, B6, and B12. It is also known to have a high content of mineral salts, particularly iodine and iron, and essential amino acids and properties that dispose of cholesterol, earning its reputation as a "healthy food".
I tried Kimbap for the first time during a party in my husband's office. My husband's colleague's wife is a Korean and she makes amazing Korean food. I have tasted a few vegetarian dishes and Kimbap is my favorite.
Kimbap is similar to sushi rolls. It is typically served with kimchi or danmuji (pickled radish). Kimchi is a traditional fermented Korean dish, made of vegetables with varied seasonings. You can also serve it with hot sauce or wasabi and soy sauce. This dish is best suited for a light lunch, for your picnik and for carryout.
This is a vegetarian Kimbap. I bought the ingredients from a Korean store. You can also get it from Asian market or a Global market.  Use your imagination and try and let me know how you like it. Here you go…
No. of servings: 5
Preparation time: 45 minutes
Spice level: 2 out of 5
Ingredients:
Roasted seaweed (Gim or Kim) – few sheets
Short grain white rice – 1 cup
Soybean sprouts – 1/2 pound
Pickled radish – 1 (7 oz or 14 oz)
Ginger garlic paste – 1 tbsp
Avocado – 1
Cucumber – 1
Carrots- 4
Eggs – 3 (optional)
Sesame seeds – 1 tbsp
Sugar
Soy sauce
Rice vinegar
Sriracha hot chili sauce or regular red chili sauce
Sesame oil
Kimchi
Method of Preparation:
Preparation of filling: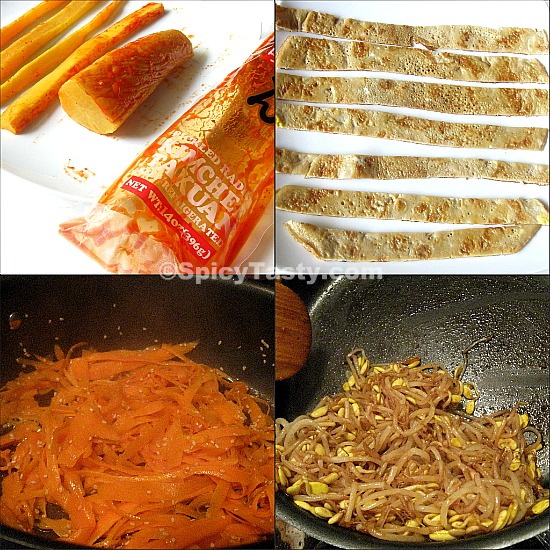 Cook rice with 2 cups of water, 1 tsp of sugar and 1 tsp of rice vinegar.
Boil about 1 quart of water and add washed soybean sprouts and let it cook for 5 minutes and plunge the cooked sprouts into ice cold water to stop cooking. Let it sit for sometime and drain it.
Heat 1 tbsp of sesame oil in a wok or pan at high heat and add ginger garlic paste and saute for a minute and add sprouts followed by 2 tbsp of soy sauce, a tbsp of sriracha sauce and a tsp of sugar. Saute for 5 minutes and remove from heat.
Wash and peel the outer skin of carrots. Cut it into thin strips using your peeler or knife.
At medium high heat, add a tbsp of sesame oil in a pan or wok and add sesame seeds. After a minute add carrots and 1/2 tsp of sugar. Saute for 3 minutes and remove from heat.
Beat the eggs with a tbsp of soy sauce and 1/2 tsp of sugar and make an omelet and cut it into thin strips as shown in picture.
Cut avocado into thin strips.
Peel cucumber's skin and cut into thin strips.
Cut the pickled radish into thin strips.
Preparation of rolls: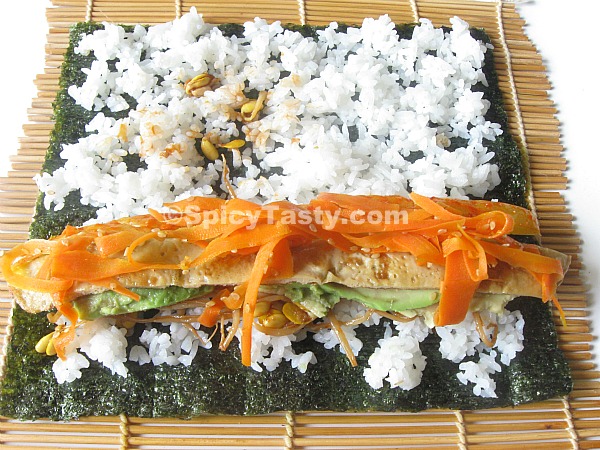 Layout the bamboo mat on a flat surface and place the roasted seaweed or kim.
Spread the cooked rice evenly on the kim.
Leave about an inch of space at the bottom and place the filling one by one close to each other and on top of each other.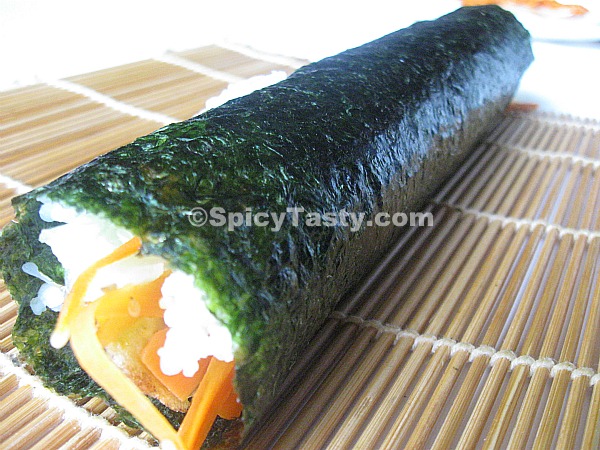 Now it is time to roll. Slowly roll the bamboo mat that is close to you and let the edge of kim touch the rice after the first fold. Make sure the filling doesn't fall apart.
Pull the mat towards you and finish the roll and maintain the shape. After you finish rolling, encircle with the bamboo mat and gently squeeze the roll to make it firm.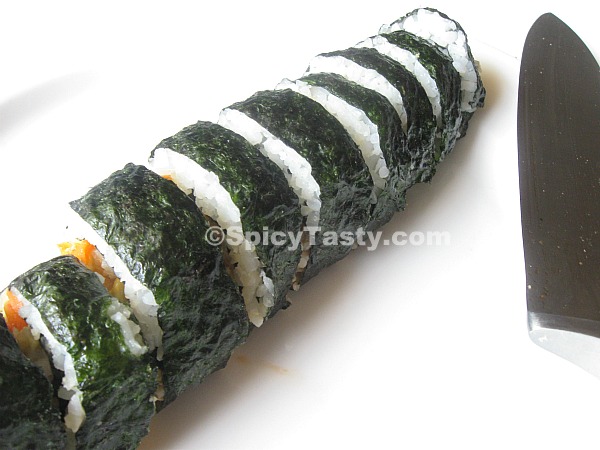 Remove the bamboo mat and place the roll on the cutting board and have a wet napkin and your sharp knife ready.
Cut the roll into slices and wipe your knife everytime you cut a piece to avoid the stickiness.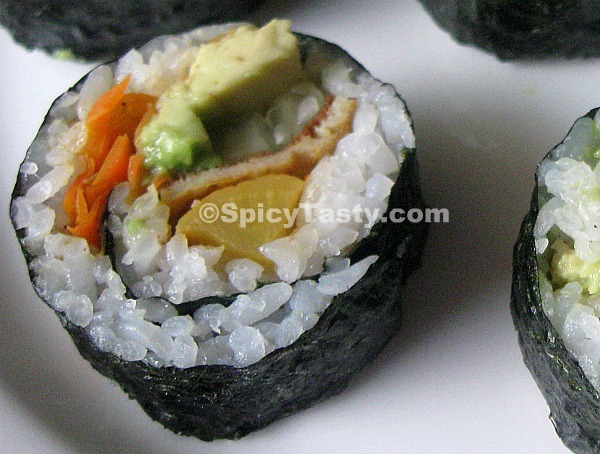 Serve it with Kimchi or hot sauce or wasabi and soy sauce mixture.