Spinach Mushroom Manicotti
Manicotti also known as Cannelloni is stuffed pasta rolls. Manicotti shells are readily available at stores or you can make them at home. I made this dish with store bought manicotti shells. Cooked the shells, stuffed it with delicious stuffs  like spinach, ricotta cheese, mushroom along with spices and then baked with a creamy sauce with mozzarella shavings on top. I hope you can imaging the taste of it. Yummy…. If you are craving for Italian, this is one of the perfect dishes to make. It doesn't have to be a special occasion to cook this dish. You just need some time and the ingredients. It is not that difficult too. So try this dish and let me know. Here you go…
Preparation time: 60 minutes
No. of servings: 4
Spice level: 2.5 out of 5
Ingredients:
Manicotti shells –  8 big shells (one 8 oz pack)
Frozen spinach – 1/2 lb or chopped fresh spinach tightly packed – 2 cups
Ricotta  cheese – 1 cup (one 14 oz pack)
Mozzarella cheese – 1 cup
Garlic alfredo or plain alfredo sauce –  1 cup
Tomato garlic pasta sauce – 1/2 cup
Marinara sauce – 1 cup
Red pepper flakes – 1 tsp
Shallots – 2
Garlic – 2 cloves
Mushroom – 5 to 6
Olive oil
Chopped fresh parsley – 2 tbsp
Italian seasoning – 1 tsp
Salt and pepper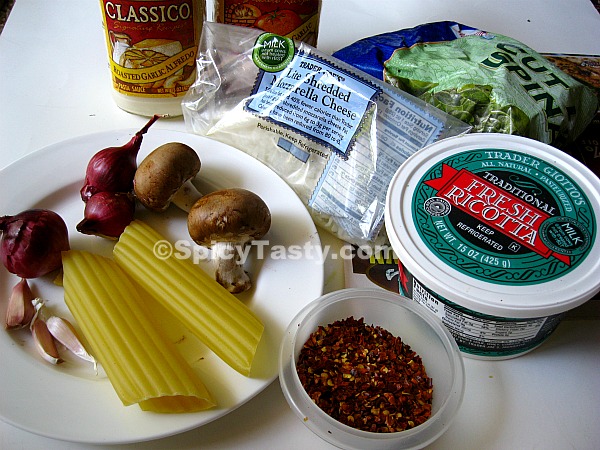 For Bechamel Sauce:
All purpose flour – 1/4 cup
Unsalted butter – 5 tbsp
Milk – 2 cups
Freshly grated nutmeg or powdered nutmeg – a big pinch
Garlic powder – 1/2 tsp
Salt and pepper
Method of Preparation:
Preparation of Spinach Mixture:
Thaw your frozen spinach and squeeze water from as much as possible and reserve the water for use.
Wash and chop mushroom to small pieces.
Peel and chop shallots to small pieces.
Heat a tbsp of olive oil in a pan and add chopped garlic. Fry it for a minute and add shallots and a pinch of salt.
For it for a minute and add mushroom. Let it cook for 3 to 4 minutes.
Add spinach followed by salt and pepper. cook for another 3 to 4 minutes. Keep stirring in between.
Sprinkle the red pepper flakes, chopped parsley and Italian seasoning. Mix well and remove from heat.
Transfer it to a bowl and let it cool.
Now pulse it in your food processor a couple of times and again transfer it to the bowl.
Add one cup of ricotta cheese and 1/3 cup of mozzarella cheese to the spinach mixture and combine well.
Preparation of Bechamel Sauce:
Melt butter in a sauce pan over medium low heat and slowly stir in all purpose flour. Be careful, do not burn it.
Mix it well to form a paste and cook for 4 to 5 minutes till the mixture turns slightly golden color.
Add the reserved spinach liquid and mix well until a smooth mixture is formed.
Now add hot milk in four batches, every time whisking the sauce until smooth. Finally add garlic powder and mix well.
Cook until the sauce becomes thick. Remove from heat.
Season with salt, pepper and nutmeg and give it a stir.
Preparation of creamy sauce:
Heat a tsp of oil and tomato garlic sauce and alfredo sauce.
Mix them well and let it boil to form a thick and creamy pasta sauce.
Preparation of Stuffed Manicotti Pasta: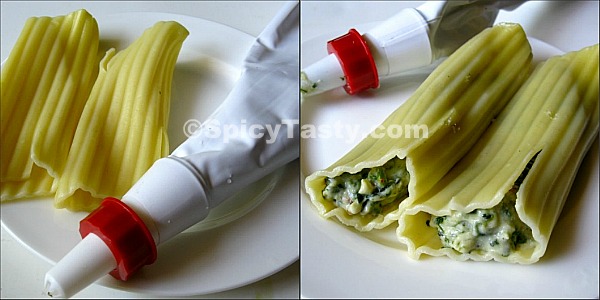 Preheat oven to 350 degree Fahrenheit (aprox 176 degree Celsius).
Cook manicotti as per directions given on the package. Don't forget to add some salt while cooking.
Add half of the bechamel sauce to the spinach mixture and mix well. Taste and add salt if necessary.
If you have a piping bag or pastry bag, fill it with the spinach mixture.
Stuff the cooked manicotti shells with spinach mixture (see pic.).
Line your baking dish or pan with aluminum foil.
Spray some oil over the foil and add marinara sauce and spread it.
Place the stuffed manicotti over the marinara sauce and pour the creamy sauce on top of it and cover the shell.
The shell will become hard and brown if it is not completely covered with sauce.
Sprinkle some mozzarella cheese on top and bake for 25 minutes.
Finally change the setting to broil and leave it for 2 to 3 minutes for the cheese to become brown on top.
🙂 Serve hot