Veggie Pizza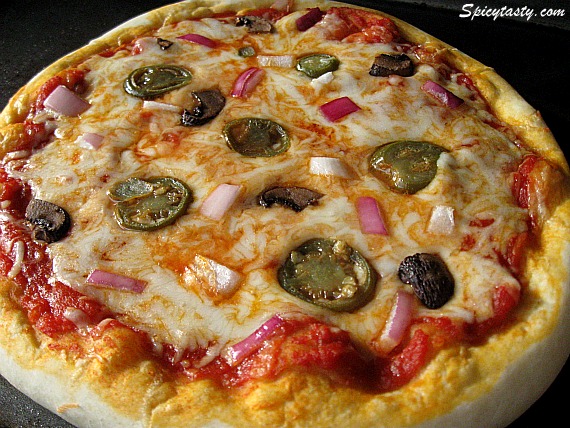 We all know Pizza is an oven baked, flat, round bread topped with tomato sauce,cheese and various other toppings like vegetables, chicken, fruits, pepperoni, etc. If you have a party at home Pizza is the easiest and best thing to make and is loved by kids to adults. You can make pizza dough at home or you can also buy it. It is available in most of the grocery shop in the United States. For those who want to make it from the base, I have given you the recipe. Here you go…
Preparation time: 20 minutes
No. of servings: 3
Spice level: 3.5 out of 5
Ingredients:
Wheat flour or All purpose flour – 2 cups
Yeast –  1/2 pack
Oil – 1/4 cup (preferably olive oil)
Salt – 1/4 tsp (adjust to taste)
Plastic wrap
Pizza sauce – 2 cups
Mozzarella cheese – 1 cup
Provolone Cheese – 1/2 cup
Jalapeños pickles or fresh Jalapeños – 1/4 cup
Cut onions – 1/4 cup
Any vegetables of your choice (tomatoes,mushroom, broccoli, carrots, etc.)
Method of Preparation:
Making of dough:
If you want to make a healthy base for your pizza, you can use wheat flour. For a regular base, you can use all purpose flour or maida.
In a bowl, combine flour and salt.
Prepare yeast as per the instructions given on the pack or just add yeast to warm water and stir well.
Add this to the flour and 2 tbsp of oil. Knead a dough. Add some more water and oil if required.
Work on the dough vigorously until the ingredients are evenly distributed and knead into a smooth and soft dough .
If you are using food processor, take out the dough and work on it with your hands for a few minutes.
You can divide the dough into equal portions of desired size and make it into a ball.
You can also store them without dividing.
Transfer the ball to a wide container and spray oil. Cover the container with plastic wrap and leave it for an hour at room temperature.
After an hour refrigerate the container over night or even for 2 to 3 days.
Making of Pizza:
Preheat oven to 450 degree Fahrenheit before half an hour.
Take desired number of balls from refrigerator and place it in a flour dusted wooden board or your counter top.
Dust the ball with flour and press it gently to make round pizza base of desired size and thickness say 1/2″ thickness and medium size.
Sprinkle some flour on a pizza pan or baking sheet and transfer it. Let it site for half an hour.
In between, combine the shredded mozzarella and provolone cheese together.
Now spread the pizza sauce over the base and sprinkle desired amount of cheese.
Top it with your cut vegetables. Spray a little oil over the top.
Bake it in oven for 15 minutes or until the cheese oozes out.
Sprinkle little olive oil and serve hot.