Badam Kheer – Almond Kheer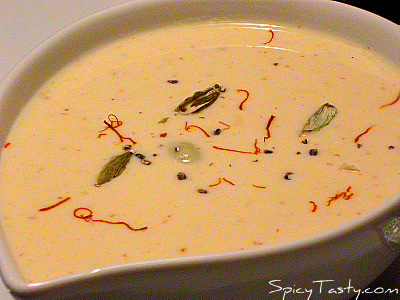 Badam Kheer/Almond Kheer is a popular drink in India. It is so simple to make but also a rich and creamy dessert. My mom and I love it. I was just thinking about her when I made this today for a get-together. My friends enjoyed it and I hope you all like it. Here you go…
Ingredients:
Almonds or Badam – 1/3 cup
Milk – 4 cups
Condensed milk – 1 can (or sugar of required amount)
Cardamom – 3 count
Saffron – few strands
Method of Preparation:
Soak almonds overnight or in hot water for 2 hours.
Drain the almonds and peel the skin off and grind it to a paste along with some milk.
Add milk to a thick bottomed vessel and heat it to boil.
Keep on stirring the milk to avoid burning at the bottom.
When it come to boil, lower the flame and add the saffron strands along with condensed milk. First add half a can, mix well and check if there is right amount of sweet. Add more if you want.
Keep on stirring till the milk reduces to 1/3 of the quantity.
Add the ground almond paste to the reduced milk and let it boil for a minute and reduce the flame.
Allow the mixture to cook for 3 to 4 minutes. It will become a little thick.
Remove from heat and let it cool.
Add ground cardamom and refrigerate.

🙂 Serve chill…