Besan-Rava Laddu
I think recently I am posting a lot of besan recipes. But you know what I love the flavor of besan. I had planned to make ladoos for diwali. But I wanted to cook something different so I ended up making this besan rava ladoo.
It's really easy and simple to make for lot of us when we don't have the time or patience to make something elaborate. This will make a great festival sweet.
Preparation Time: 45 mins
No of Ladoos : 15-20
Ingredients:
Besan/Chickpeas Flour : 1 1/2 cup
Sugar : 3/4 cup
Sooji/Semolina coarse : 4 tbsp
Ghee/Clarified Butter : 1/2 cup
Cardamom Powder : 1/4 tsp
Almonds : 3 tbsp (chopped finely)
Raisins: 1 tbsp
Method Of Preparation: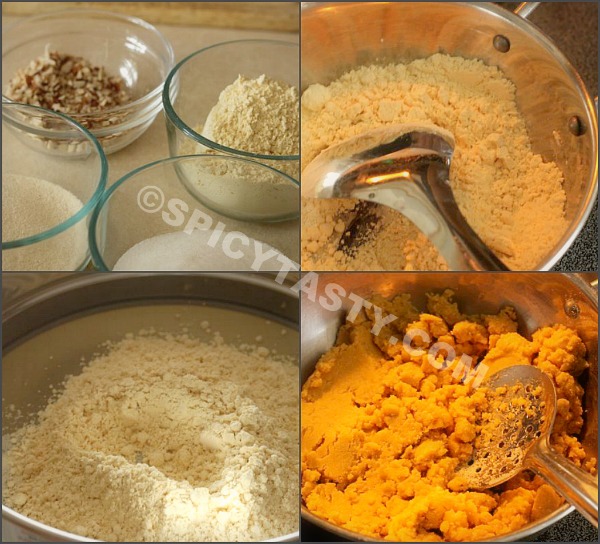 Dry roast the besan for 10 minutes in simmer flame till you smell a nice aromatic flavor(make sure you don't burn the besan)
And also dry roast sooji for 10 minutes.
And just fry the raisins and almonds in a tbsp of ghee separately.
Now sift the chickpeas flour/besan in a separate wide bowl.

Add roasted sooji and ghee into sifted besan. Combine everything well.
Now heat a pan and add the above mixture into it. Stir it in simmer flame. You have to roast the whole mixture for upto  15 – 20 minutes in low heat. Don't adjust the heat just maintain the same heat. That way you don't overcook the besan flour.
You will see  the ghee starts to melt and a nice aroma comes from the mixture. Once the raw smell of the besan is gone you can remove it from heat and let it cool. Make sure the besan flour is warm and not completely cool.
After that add the sugar, cardamom powder, almonds and dry grapes.
Mix it all together gently, combine well.
Take a small amount of mixture in your hands and just clump it to make a round shaped ball as shown in pic.
You will get about 15-20 ladoos out of this mixture.