Navratri/Golu Festival and Recipes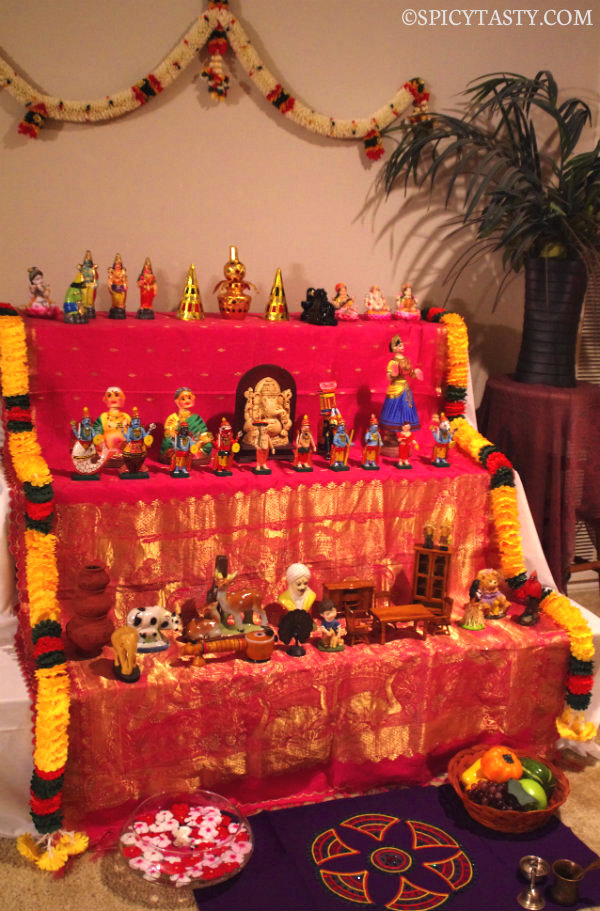 Wish you all a Happy Navratri!!!
Navaratri or Navratri is a renowned festival celebrated by Hindus in the month of October. Navaratri means "nine nights". This festival is celebrated for nine nights and 10 days consisting of ceremonies, rituals, fasts and feasts. The festival is dedicated to Durga, the mother goddess who also represents power. Durga annihilated the demon Mahishasura after a relentless battle lasting nine days and nights. The 10th day being Vijayadashami or Dasara meaning Victory celebrated for the destruction of evil.
Navaratri is celebrated in different ways in different parts of India. During this period Goddess Durga, Lakshmi and Sarawathi are worshiped for noble virtue and strength, wealth, wisdom/knowledge. Growing up in the Southern India, I have always known the way we celebrate there. But my friends from different parts of India, have described their way of celebration. It is fascinating!!
In Tamilnadu, we celebrate this festival by displaying various dolls on odd numbered steps made of wood or metal. The dolls generally depicts various deities such as Dasavatharam, Kalyana utsavam, Ashtalakshmi, etc. along with other dolls depicting Indian tradition and culture and history. But there are no restrictions. In my house, we generally have 7 steps starting with a Kalasam (sacred copper pot used for Puja or worship) on the first step and the next few steps consisting of various Hindu God and Goddess dolls. Finally, we keep other decorative dolls and things made of wood, metal or plastic.  My sister and brothers will help me make a model park inside the house with a small pond, roads, etc. It is an interesting project for kids. And them kids will dress up with fancy clothes depicting Lord Krishna, Lakshmi devi, saraswathi, etc. and go to everyone's house on the street and community to invite  them to our house.
When people come to our house to see our Golu, we entertain everyone to sing songs and sometimes kids dance showing their talents. Finally we give them thambulam, a goody bag with prasadam (food offered to God) and a return gift.
I started following the tradition of keeping Golu last year and I keep 3 steps with a few dolls I have, some I brought from India and the rest I collected from here. I make different type of sundal or sweets or other prasadam food as an offering to God, then give to my friends and neighbors. Here are some recipes for Sundal and other Navratri special dishes.
Sweets and Payasam Varieties:
Rice Varieties: