Chakka Payasam – Jack Fruit Kheer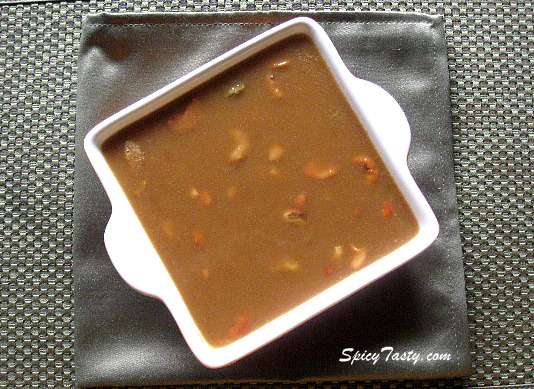 Jack fruit kheer or Chakka Payasam is a popular sweet in Kerala. The main ingredient of this kheer is Chakka Varatti or Jack fruit Jam. This jack fruit  jam is made by cooking steamed ripe jack fruit , ghee and jaggery. It lasts for over an year without loosing its taste. We make Chakka Varatti during the jack fruit season and use it through out the year for making Elai Adai, Chakka Payasam and other sweets. This Chakka Payasam is a simple yet delicious sweet for any occassion or an auspicious day. Here you go…
Preparation Time: 15 mins (with ready made chakka varatti)
No. of Servings: 4 to 5
Check here for the recipe of Chakka Varatti or Jack fruit jam.
Ingredients:
Chakka Varatti or Jack fruit jam – 3 tbsp
Powdered Jaggery – 1/4 cup
Coconut Milk – 3/4 cup (I used can coconut milk)
Cardamom – 2 pods
Ghee or Clarified Butter – 1 tbsp
Coconut chunks – 2 tbsp
Cashew nuts – 2 tbsp
Method of Preparation:
Melt jaggery in 1/2 cup of water and filter it to remove the scum
Again heat the filtered jaggery syrup in a sauce pan and when it stars boiling add chakka varatti or jack fruit jam and mix well to become a sauce but not too thick.
Simmer the heat and add coconut milk and powdered cardamom.
Keep on stirring to avoid curdling.
Remove from heat when it starts boiling.
In a small seasoning pan, add ghee, cashews and coconut chunks or bits.
Fry till the coconut and cashews are light golden brown and add it to the payasam.