Elai Adai – Jack fruit Dumpling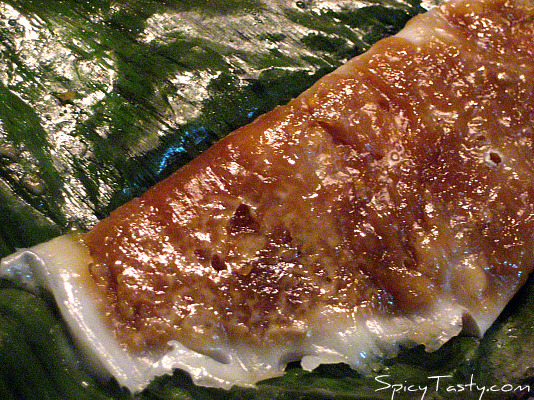 Elai Adai is one of the popular sweets in Kerala. Elai adai is made of jack fruit jam which is called as "Chakka Varatti" in Kerala. This is made using plantain leaf which gives a special flavor to the adai.  Jack fruit by itself is tasty. When it is prepared as a jam and added to coconut puran, it is divine. My mouth waters when I think about it. Recently I went to Kerala for a wedding. Such a beautiful place it is. I spent a week there and had a good time. I tasted their food, specially the sweets. It was yummy!!! The Pazha Payasam (Fruit Kheer), Paladai Pradhaman (Milk Kheer), Chakka Pradhaman (Jack fruit kheer), Elai adai, the list goes on…My mother in law makes awesome sweets. She made this Elai Adai specially for me today and I am sharing her recipe with you. Here you go…
Main Ingredients:
Jack Fruit Jam
Puran
Rice paste
Plantain Leaf

Preparation of Chakka Varatti or Jack Fruit Jam:
Ingredients:
Jack fruit – 1 kg
Jaggery – 1/2 kg
Clarified butter/Ghee – 200g
Method of Preparation:
Deseed jack fruit or you can buy deseeded jackfruit.
Steam cook the jack fruit in pressure cooker by adding a cup of water.
Add more water if required. Pressure cook till the jack fruit is mashed.
Grind the cooked jack fruit.
Heat a deep bottomed pan, add the jaggery and add some water till it gets completely wet (say 1/2 cup to 1 cup).
Allow the jaggery to completely dissolve in water and when it starts boiling add the ground fruit and mix it well.
Keep on stirring till it becomes thick. Now add ghee or clarified butter to it little by litle.
After sometime, it will not stick to the pan and will be thick like coconut puran.
Remove from heat.
Preparation of Puran:
Ingredients:
Coconut – 2 cups
Jaggery – 3/4 cup
Chakka Varatti/Jack fruit jam – 1 cup
Method of Preparation:
Heat a thick deep bottomed vessel (kadai). Add jaggery and little water (say 1/4 cup).
When the jaggery completely dissolved in water, filter it to get rid off dirts.
Transfer the filtered jaggery syrup to the kadai and start heating.
Add the shredded coconut when the syrup starts boiling.
Mix well till the water gets evaporated. Now add the chakka varatti or the jack fruit jam and mix well.
When the mixture is soft and thick, remove from heat.
Puran is ready.
Preparation of Rice paste:
Raw rice – 1/2 cup
Boiled rice – 1/2 cup minus 2 tsp (little less than 1/2 cup)
Method of Preparation:
Wash both the rice together and soak overnight.
The next day grind the soaked rice finely with less water.
The ground rice should as thick and fine as possible. It should not be free flowing like dosa batter. It has to be solid.
Preparation of Elai Adai:
Cut banana leaf into small rectangle or square pieces as in picture.
Now turn on your gas stove and show the leaf one by one over the flame by turning both the sides for 3 to 4 secs. This is to make the leaf flexible enough. Please see the picture for clarification.
Add a little say 2 tsp of water to the rice paste and loosen it a bit. It has to be really thick and flowing.
Now spread a leaf and take a spoon full of rice batter and spread it across the leaf just like dosa.
Take a big ball of puran and spread it on the lower part of the spreaded batter as shown in picture.
Now fold the plantain leaf from top and fold the sides and seal the bottom.
Repeat the same procedure for the rest of the leaf.
Now arrange these stuffed leaf in an idli plate as shown in picture and steam cook it for 10 minutes.
Remove from heat. Elai Adai is ready.
🙂 Serve hot or warm.