Palada Pradhaman – Rice Flakes Kheer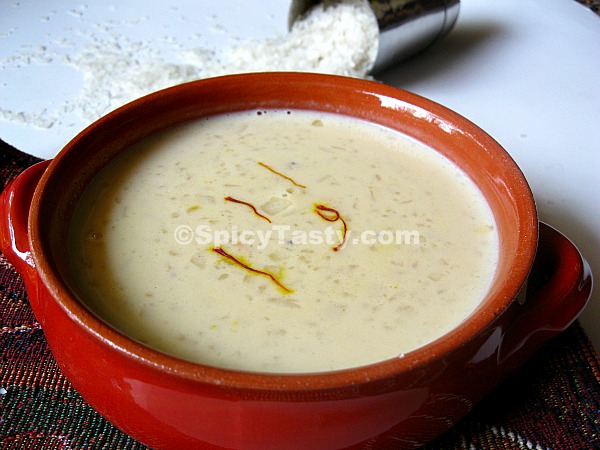 Palada Pradhaman is a popular dessert dish from Kerala, South India. It is prepared with rice flakes, milk and sugar. This pradhaman is made for festivals and special occasions such as Onam, Vishu and weddings. I have used the readymade rice flakes available in stores. A detailed procedure for making homemade ada is given here.
There is another traditional version of this dish known as Ada Pradhaman which is also prepared using the same "ada" or rice flakes but with jaggery and coconut milk instead of milk and sugar. This recipe with rice and sugar is easy to follow and not time consuming. Try this delicious pradhaman for Onam festival or any special occasions and enjoy with your family.
Ingredients:
Palada or rice ada – 1/3 cup
Whole milk – 4 cup
Sugar – 1 cup (adjust to taste)
Cardamom – 3 pods
a pinch of saffron
Method of Preparation:
Wash and soak rice ada in warm water for 15 minutes.
Drain rice ada and add it to to the pressure cooker along with milk, sugar and saffron and let it cook for 40 minutes over low heat or until the rice flakes are completely cooked with the whistle on.
Turn of the stove and let the pressure come down.
Milk would have turned to slight pink. If you want it to be thicker, let it boil over medium heat for 10 more minutes stirring frequently.
Add powdered cardamom and mix well.
Serve warm or chill.