Carrot kheer
Kheer is a traditional dessert dish in India and it has different names such as payasam, payesh, etc. It is generally made during festival times and all special occasions. Kheer is a must in marriages or any feast. Milk is the base for any kheer which is reduced and cooked with the main ingredient. When you say kheer, it always reminds you of Rice Kheer which is the most popular among kheers. But kheer can also be made with many other ingredients and carrot is one among them. Carrot Kheer is very easy to make and the color of the kheer itself is so tempting and appealing. I made this Kheer for Navratri festival and it came out so good. Enjoy this kheer and let me know your comments.
Preparation time: 30 minutes
Cooking time: 60 minutes
Yield: 10 servings
Ingredients:
Big carrots – 4
Milk -5 and 1/2 cups ( I used 2% milk)
Evaporated milk – 1 can (12 oz or 350 ml)
Sugar – 3/4 cup (adjust to taste)
Cardamom – 4
Saffron – a few strands
Cashew nuts –  3 tbsp
Sliced or slivered almonds – 1 tbsp (for garnishing)
Chironji (sara paruppu) – 1 tbsp (optional)
Ghee or clarified butter – 1/2 tsp
Method of preparation: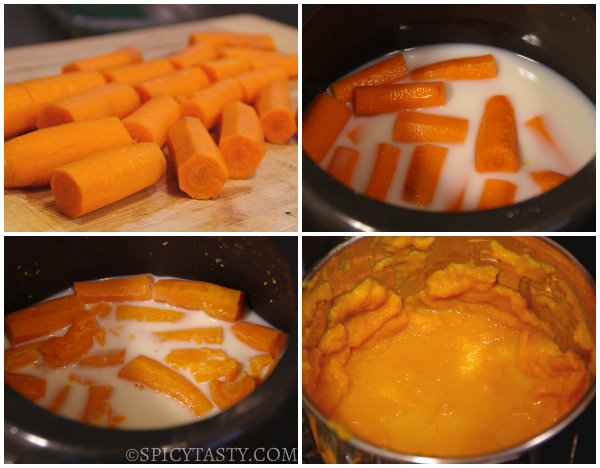 Soak 2 tbsp of cashew nut in milk for a minimum of half an hour and soak chironji (sara paruppu) in hot water for half an hour.
Peel carrots, roughly cut into big pieces and pressure cook with a cup of milk for 5 to 6 whistles.
Grind it to a smooth paste.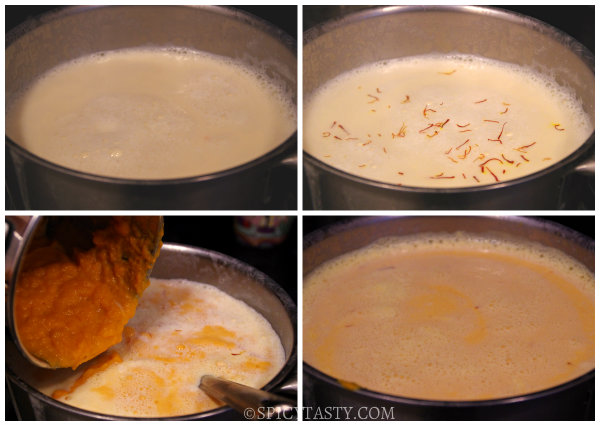 Add all the milk to a container and bring it to a boil. Reduce the flame and let it boil until it reduces to 3/4th of the quantity. Stir in between.
Add evaporated milk and allow it boil and then add saffron. Let it cook in low flame.
Grind soaked cashew nut and add it to the milk.
Slowly add sugar little at a time and mix well. Leave it for 15 minutes over medium heat stirring continuously.
Add ground carrot to the milk slowly. Cook over low heat for 15 to 20 minutes or until it becomes a little thick.
In between, remove the skin of chironji and keep it aside.
Add chironji and ground cardamom, turn off stove and let it cool. Kheer is ready.
Heat ghee in a pan and add a tbsp of broken cashew nut and almonds. Fry till golden brown and add it to the kheer.
You can also add raisins if you like.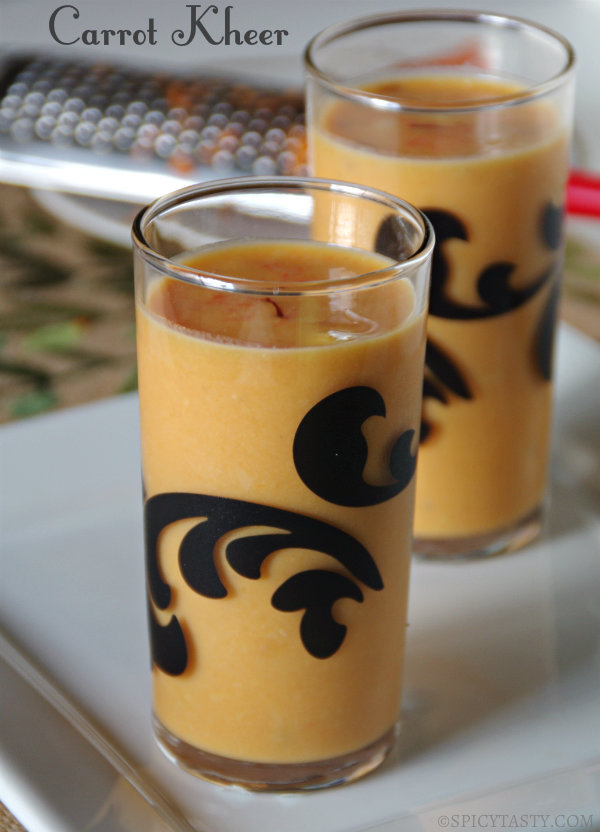 🙂 Serve chill.