Cashew Badam Burfi- Cashew nut and Almond Cake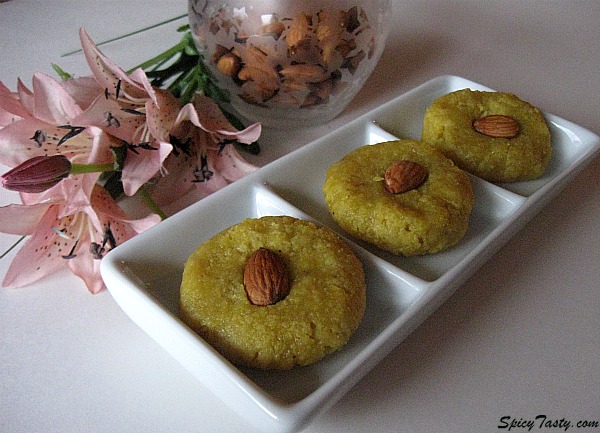 Burfi or Burfee is a popular sweet confection from India. Some of the popular burfi are made of almonds, cashew nuts, pistachios, besan or gram flour and coconut. I am a huge fan of almond and cashew nut burfi. I have always had it from sweet shops. Never tried it at home until recently. It was my dear friend Shriya's Baby Shower and I wanted to prepare something special for her and I made this almond and cashew nut burfi. I mixed both the nuts because Iredient was short of almonds. It came out so nice. Everyone loved it. Here you go…
Preparation time: 60 minutes
No. of servings: 25 burfis
Ingredients:
Almonds – 1 cup
Cashew nut – 1 cup
Milk – 1/2 cup (I used 2% milk)
Ghee or Clarified butter – 6 tbsp
Sugar – 2 cups (adjust to taste)
Saffron – 1/4 tsp
Cardamom – 5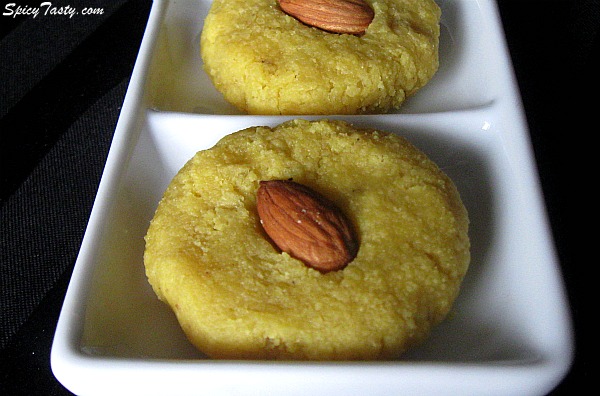 Method of Preparation:
Soak almonds over night in water or add almonds to boiled water and leave it for an hour.
Soak cashew nut for two hours in water.
Remove the skin off almonds and grind it to a coarse and thick paste by adding some milk.
Grind cashew nuts to a thick paste by adding some milk. Do not forget to grind it separately.
At a low heat, in a deep bottomed thick pan add 2 tbsp of ghee.
And immediately add the ground almond and cashew and start stirring.
Increase the heat a bit and keep on stirring for about 10 minutes.
Make sure it doesn't stick to the bottom to avoid the formation of golden brown flakes.
Add sugar and mix well. Sugar melts and form a free flowing mixture.
Add the rest of the ghee and saffron and keep on stirring until it becomes thick.
When it starts leaving the sides of the pan, keep on stirring over heat for five more minutes.
Remove from heat and add powdered cardamom. Keep stirring for some more time even after removing from heat.
Grease a tray with ghee.
Transfer it to the greased tray and cut into any shape when it is hot.
Burfi is ready.