Kaju Katli – Cashew nut Burfi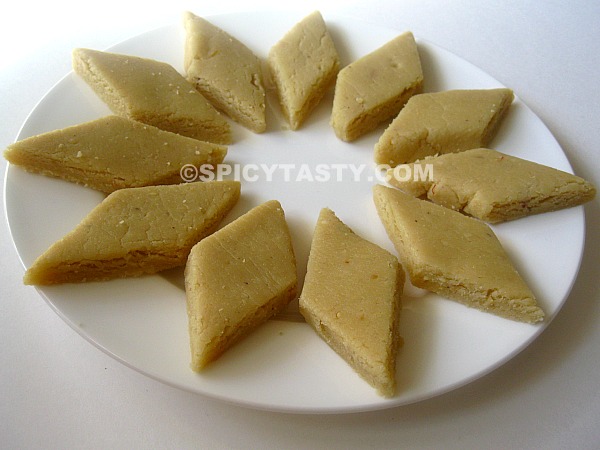 Kaju katli is a popular Indian sweet made of powdered cashew nut and sugar syrup, spiced with cardamom powder. It is Diwali time and I have been waiting to make this wonderful sweet dish. Getting the right consistency of sugar syrup is the key. Make this dish at home and enjoy the Diwali.
Ingredients:
Cashew powder – 3 cups
Sugar – 1 and 1/2 cups
Ghee or clarified butter – 2 tbsp
Cardamom powder – 1/4 tsp
Saffron – a big pinch
Method of Preparation:
Preheat oven at 200° F (100° C).
Spread cashew in a baking sheet or tray and oven roast it for 15 to 20 minutes. Check in between (after 10 mins).
Or you can dry roast it in a pan over medium heat. Cashew should not change color.
Let it cool and grind to a fine powder. Do not grind it for a long time, since cashew will start giving away oils.
In a thick bottomed vessel or a non-stick pan, add sugar and 1/4 cup of water or till sugar becomes wet.
Make a sugar syrup of 2 string consistency. To test this, wet your fingers and take a little syrup between thumb and index finger. When you separate the fingers, there will be a couple strings in between.
In that stage add cashew powder and start mixing. It will become a thick paste. Add ghee.
Do not stop stirring at any stage.
It will start bubbling and leaving the sides of the pan. When it starts breathing or blowing off hard, cook for 2 minutes and remove from heat.
Remove from heat and continue stirring till it becomes warm.
Grease a tray and transfer the contents. Grease your knife with a little ghee and cut into diamond shape or any shape of your choice.
Let it cool and store it in a air tight container and refrigerate it.