Ambur Mutton Biryani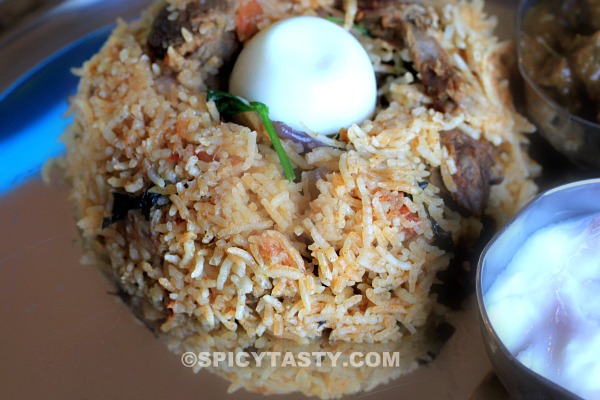 I know we posted a lot of Diwali sweets and savories recipes but what is Diwali without some idlies, mutton gravy and briyani, right? (Veg fans – we love sambar and chutney equally with Idlies. 🙂 )
My mother-in-law surprised us with this easy-to-make yet heavenly delicious Mutton briyani!
Ambur is a town in Tamilnadu and is really famous for their spicy dum briyani. Here is a blurb from Wikipedia
Ambur Biriyani is one of the famous biriyani recipes of South India which emerged during the Nawab of Arcot's regime. Prepared mainly in Basmati Variety of rice, both chicken and Mutton are used for this. A full plate of Biriyani with Brinjal curry (Khattay Baigan or Yennai Kathrika) and Onion Raitha (Vengayam Pachidi) makes our feast a delightful one. Such is its very delicious taste, which makes many thousands of passers by in this Golden Quadrilateral track of Chennai-Bengaluru highway to taste it. Apart from this, Pakaathee (Biriyani cooks, as known in this region), are the people who indulge in large scale biriyani preparation and are hired to many places of South India for Biriyani preparation.
I had Ambur briyani for the first time last year during my trip home and I became a big fan of it. I have been wanting to try this at home and we finally made it for Diwali and it turned out really nice. In fact, we took shortcuts with the electric cooker but it still came out tasting really great!
Preparation Time : 60 minutes
No of servings : 3-4
Spice level : 3 out of 5
Ingredients:
Mutton : 1/2 kg (500gms)
Basmati Rice : 21/2 cups (You can use Zeeraga samba rice instead of basmati )
Oil : 1/4 cup
Onion : 1 (large)
Tomatoes : 2
Ginger and Garlic Paste : 1tbsp
Mint and Coriander Leaves : 1 cup (chopped)
Red Chili Powder : 1/2 tbsp
Coriander powder : 1/2 tbsp
Turmeric powder : 1/4 tsp
Ghee : 1/4 cup
Salt to taste
For marinade : 
Coriander powder ; 1/2 tbsp
Red chili powder : 1/2 tbsp
Garam masala Powder : 1 tbsp
Yogurt : 1/2 cup
Turmeric powder : 1/4 tsp
Ginger and Garlic paste : 1/2 tbsp
lemon Juice : 2 tsp
Whole spices :
Cloves : 3
Cardamom : 3
Bay Leaves: 2
Cinnamon stick : 1 "
Star Aniseed : 2
To Grind :
Cashews : 10
Fennel seeds : 1/2 tsp
Cumin seeds : 1/4 tsp
Green Chili : 2
Garlic : 3
Method Of Preparation :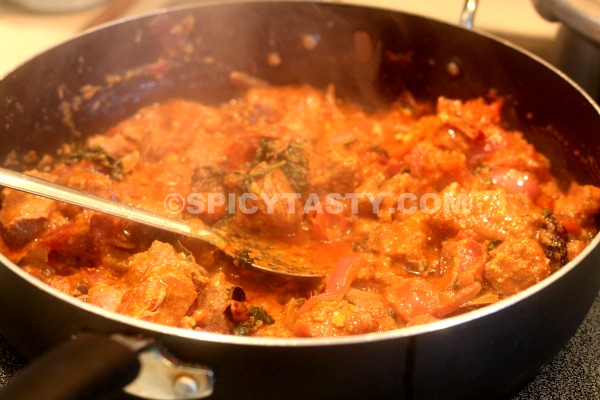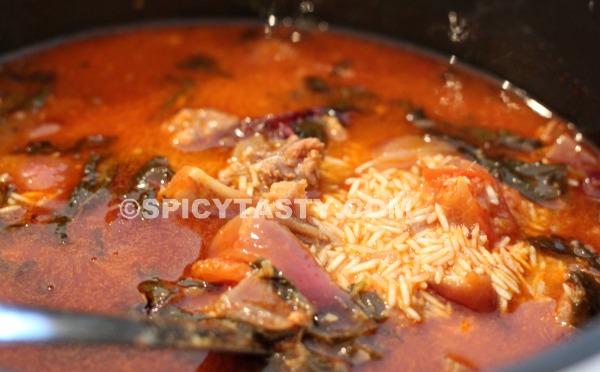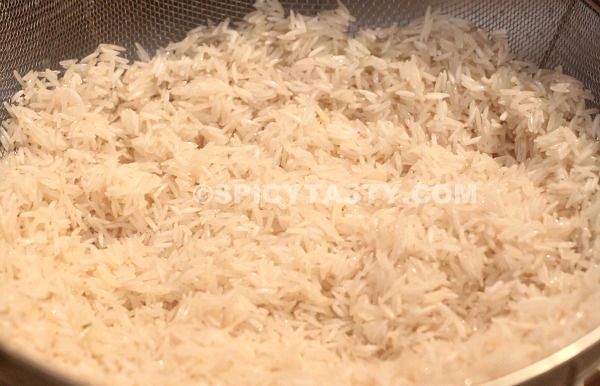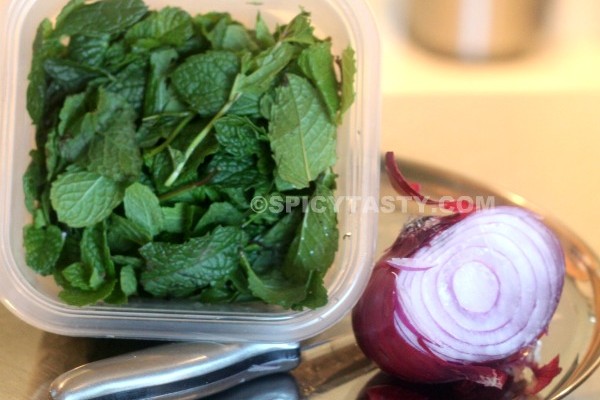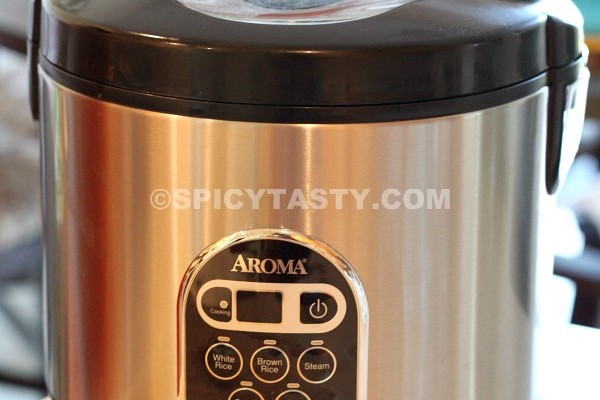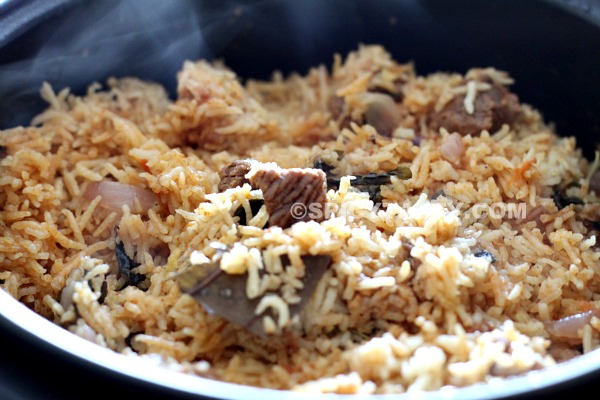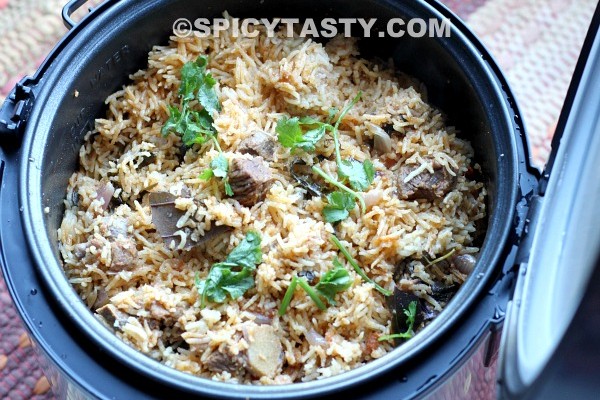 Marinate the mutton with the ingredients listed under marinade for about an hour or atleast 30 minutes.
After an hour pressure cooker the marinated mutton with 4 cups of water. Pressure cook for 3 whistles and keep it aside.
Wash and soak the rice for 30 minutes.
Grind the cashews, fennel seeds, cumin, green chili and garlic into smooth paste and keep it aside.
Now heat Ghee and oil in a wide bottomed pan. Now add all the whole spices into it.
Fry them in low heat until a nice aroma comes out of it. After that add the sliced onions into it.
Fry them till  it becomes translucent and add 1/2 tbsp of ginger & garlic paste. Saute it for 2-3 minutes till the raw smell goes off.
After that add red chili 1/2 tbsp of red chili powder and coriander powder. Mix it all together and add turmeric powder.
Now add the chopped tomatoes with required salt and fry them for 3-4 minutes.
Finally add the mint leaves  & coriander  leaves, mix it all together.
Now add the pressure cooked mutton and mix them well finally add the ground paste and saute it for another 5 minutes in low flame.
Once the gravy is done transfer it into the electric rice cooker vessel.
Fry the soaked basmati rice in the same gravy pan for 2 minutes with 2 tbsp of ghee.
After that transfer the rice from the above step  in to electric rice cooker pan with that  gravy (step 12). Mix it all together sprinkle some coriander leaves and close the lid.
Once it's done serve it hot with raitha, mutton curry or any of your favorite  side dishes.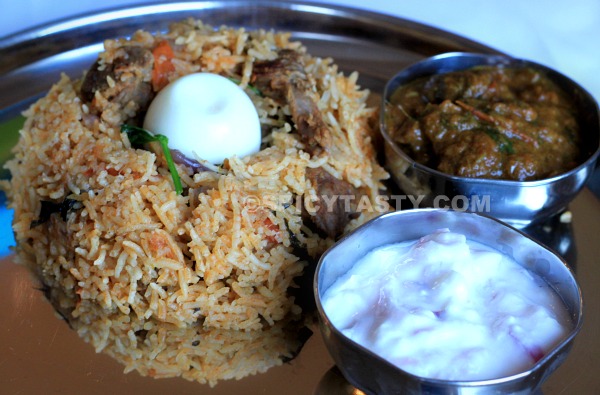 Tip:
Ambur biryani is traditionally made with seeraga samba rice (Broken Rice).
And you can also do this dum method instead of the above one.
– Add the washed rice in a boiling water, salt and cook till 3/4th done and drain the water. Set the rice aside.
– And layer the rice with gravy mentioned in step 12 and dum cook in oven for about 30 minutes in 350 F
Any briyani goes great with
Pepper Mutton Curry
I just posted recently. Don't forget boiled eggs and raita to go with it!
Here are a few more briyani recipes we have posted so far
Or just do a search on the site.