Quick and Easy Recipe Mela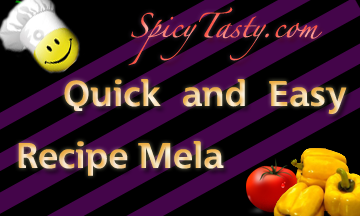 We are glad to announce SpicyTasty's "Quick and Easy Recipe Mela" for this summer…
Have you ever been tired of doing all your house work or your office work and then come back to your kitchen and wonder what to cook for dinner?
Have you ever thought that I wish today I can cook something nice and quick and watch my favorite movie or a serial or spend sometime with your kids?
Have you ever felt that I wish someone can cook for me tonight so that I can enjoy it? Here is the answer to all that…
Please share with us your favorite, fast and simple recipes in this "Quick and Easy Recipe Mela" and share it with others and make their (and yours in turn) life easy. It can be a breakfast dish, a snack or a dessert or a pastry or a sweet dish or anything you can think of. Also you have a chance to be a lucky winner to have your recipe featured separately in SpicyTasty. All the participant's dishes will be shared in a final round-up with a link to your blog (if you have one).
Rules for the "Quick and Easy Recipe Mela":
This mela is open for both bloggers and non-bloggers.
Please join our SpicyTasty family by subscribing through our RSS feed, become a fan in Facebook and follow us in Twitter.
You can submit as many recipes as you want.
The whole preparation time has to be 30 minutes or less than that.
Please mention the
(i) No. of servings
(ii) Preparation time
(iii) Spice level (rating out of 5)
Last date to send your entries will be July 7, 2011 and the winner will be announced on July 10, 2011.
We will choose a winner and the winner's recipe will be featured in SpicyTasty.com and on the SpicyTasty Facebook page. You will be awarded with a cool badge that you can sport in your own blog!
If you have a blog:
You can only submit recipes that are published from now till July 7, 2011. Old posts are not accepted.
When you post a recipe in your blog, please mention that you are submitting it for the "Quick and Easy Recipe Mela" along with the logo (please copy the picture and re-size if required) and a link back to this post in SpicyTasty.
Also, leave a comment in our "Quick and Easy Recipe Mela" post mentioning about your entry.
If you don't have a blog:
Those who do not have a blog and still would like to enter, can send in their recipes along with picture(s) to spicytasty.contests@gmail.com
Picture size has to be maximum of 550px width and size not exceeding 2MB.
Also, leave a comment in our "Quick and Easy Recipe Mela" post mentioning about your entry.