Wilton Cake Decorating
I love baking. It makes me feel so happy. So I thought why not learn some cake decorating. So I joined the Wilton Cake Decorating Course at Michaels Store. There are four courses from basics to advanced level. I took Course-1 and it is Decorating Basics. It is one class every week for 4 weeks. Prior to joining the course, I tried a few different frosting and decorated my cakes with what I knew. But this course taught me details of decorating and a few important techniques. This is a perfect course for beginners. I am happy to share my experience and photos with you all.
Week 1: We learned to make butter cream frosting and the right consistency to be used for different purposes. Our instructor was very enthusiastic and shared her experience and tips with us. She also helped me pick a few things from the store.
Week 2: We brought our own cake and butter cream frosting. In this class, we practiced some flowers and piping on a practice sheet and then worked on our cake. We learnt by experience about the right consistency required for icing, and piping. I decorated the cake and took it for my friend's house warming celebration. Everyone liked it so much. This is a basic Yellow Cake (used Betty Crocker's cake mix)  iced and decorated with butter cream frosting. Check out the frosting recipe below.
Week 3: This week we decorated our cupcakes with various flowers and patterns. We used different colored frosting and showed our skill decorating the cupcakes. We took pictures and shared it in our class. I used a basic white cake batter for the cupcakes and the frostings is again butter cream.
Week 4: This is the final class of this course. We brought a cake which was already iced and ready to decorate.We learnt roses and writing. And you can see my writing has improved on my second cake and the patterns too. This is a single layer chocolate cake with butter cream frosting. Used the left over batter for some chocolate cup cakes. Check out the recipe for Butter Cream Frosting below.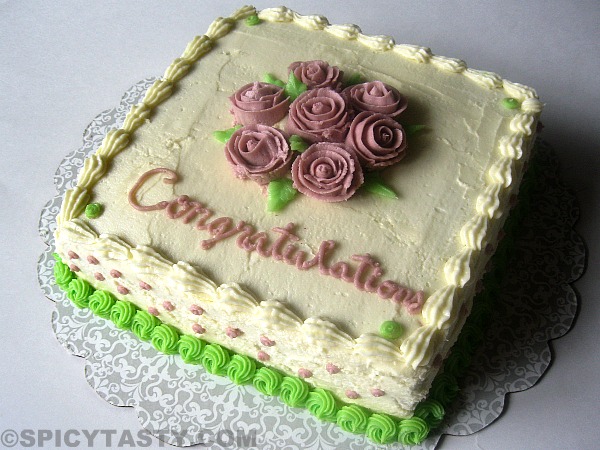 Recipe for Butter Cream Frosting:
Yield: 2 and 1/2 cups
Vegetable shortening (butter flavor or white) – 1 cup
Wilton vanilla flavor – 1 tsp
Wilton Butter or Almond flavor – 1 tsp (I used butter flavor)
Milk or water – 7 to 8 tsp
Pure cane confectioner's sugar – 1 lb (450 gram)
Wilton Meringue powder – 1 tbsp
A pinch of salt (optional)
In case of allergies, meringue powder may be eliminated.
Cream shortening, flavoring and milk or water. Add dry ingredients and mix on medium speed until all the ingredients are mixed together. Blend for an additional minute until creamy. This recipe is for stiff consistency. You can change the consistency of frosting by adding a few drops of water.