Aloo Ki Subzi- Creamy Potato curry
If you are looking for a rich and creamy curry for your rotis, here it is. I had some sour cream and Greek Yogurt sitting in my refrigerator and I wanted to use it to make a creamy curry for today's lunch. I added potatoes but you can throw in any vegetables of your choice or even mixed vegetables. I hope you will like it. Here you go…
Preparation time: 30 minutes

No. of servings: 6
Spice level : 3.5 out of 5
Ingredients:
Medium size potatoes – 2
Finely chopped onions – 1 cup
Tomato – 1
Green chilies – 3
Ginger – 1″
Garlic – 1 clove
Red chili powder – 1 tsp
Garam masala –  1/2 tsp
Cumin powder – 1/4 tsp
Coriander powder – 1 tsp
Turmeric powder – 1/4 tsp
Besan or chickpea flour – 1 tbsp
Oil –  2tbsp
Butter – 1 tbsp
Salt to taste
Cashew nut – 2 tbsp
Greek yogurt – 1/2 cup
Sour cream – 2 tbsp
few chopped Cilantro
Method of Preparation:
Soak cashew nut in water for 15 minutes and grind it to paste along with 3 tbsp of milk.
Boil and peel potatoes and cut into big pieces.
Heat a tbsp of oil in a pan at medium high heat and fry the cut potatoes till they are slightly brown on all the sides. Transfer it to a plate lined with paper towel to absorb oil.
Heat a tbsp of oil in the same pan and add onions and a little salt. Fry till they are translucent.
Grind green chilies, ginger, garlic and tomato.
Add the ground mixture to onions and cook it for a couple of minutes at medium heat.
Add red chili powder, turmeric, garam masala, coriander and cumin powder. Cook for 4 to 5 minutes.
Add the fried potatoes and mix well carefully without breaking them.
Now beat the yogurt, sour cream and besan together to form a thick, creamy mixture.
Add the yogurt mixture to the pan and combine well with the cooking gravy.
Lower the heat and let it cook for 3 minutes.
Add the ground cashew nut paste and mix well. Add some water and cook for a couple of minutes or till you get a desired consistency.
Garnish with chopped cilantro leaves.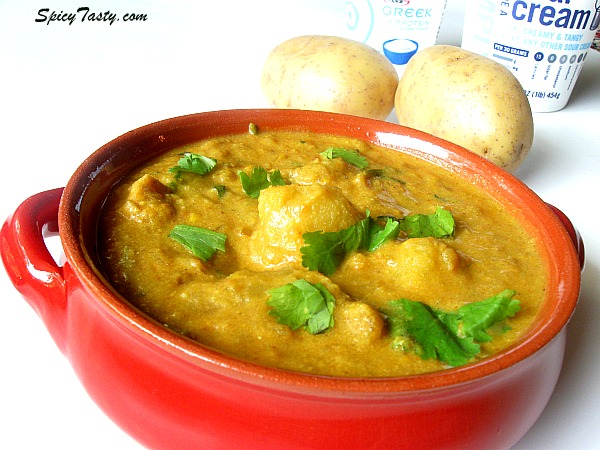 🙂 Serve hot with roti or rice.