Gobi Shimla Mirch Ki Sabzi – Cauliflower Capsicum Curry
Bell peppers and cauliflower are very nutritious. They are rich in vitamins and fiber. I love bell pepper's flavor and taste. So I usually use it in many dishes I make.
I had some cauliflower and bell pepper sitting in my fridge for a short while. First, I was gonna make Gobi manchurian but after I saw the bell peppers I decided to make this gobi shimla mirch ki sabzi.
It's very easy to make and a great side dish for roti's and naan. Let me know if you try this recipe.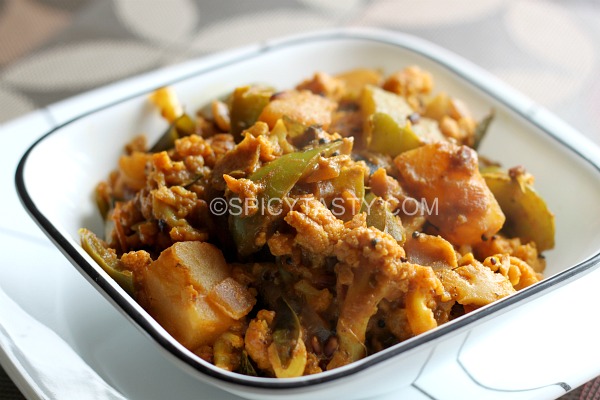 Preparation TIme: 45 minutes
Spice Level : 3 out of 5
No of servings : 3-5
Ingredients
Oil : 2 tsbp
Onion : 1 (medium)
Tomato : 2
Ginger & Garlic paste : 1 tbsp
Cumin Powder : 2 tsp
Coriander Powder : 2 tbsp
Red chili Powder : 1 1/2 tbsp
Garam Masala Powder : 2 tsp
Cauliflower/Gobi : 1 cup
Capsicum/Bell pepper/ Shimla Mirch: 1/2 cup
Potato : 1/2 cup
Curry Leaves : 10
Coconut Milk : 1/4 cup
Kasuri Methi : 1 tsp
Coriander leves : for garnishing
Method Of Preparation :
Boil water in a wide pan and once it comes to a full boil remove from heat.
Add the cauliflower into it and soak it for couple of minutes and remove it.
Now drain the cauliflower and mix it with turmeric powder. Keep it aside.
Heat oil in a pan add onion, saute it for 5-6 minutes till it becomes translucent.
After that add ginger & garlic paste saute it for a couple of minutes till the raw smell goes off.
Now add tomatoes and little salt mix it all together. Fry them for 3-4 minutes till the tomatoes get mashed up.
Now add all the masalas (red chili powder, coriander powder, little turmeric powder,  garam masala powder and cumin powder)
Mix it all together and let it sit in heat for 2-3 minutes till all the raw masala smell goes off.
Finally add the marinated cauliflower, potatoes and capsicum.
Add 1/2 cup of water and cover it with lid.
Let all the veggies get cooked equally and the consistency comes to a dry curry.
Finally add kasuri methi and coconut milk. Let it boil for 5 minutes and once you get the consistency you want, remove from heat.
Garnish it with coriander leaves.