Chettinad Kara Kuzhambu – Chettinad Spicy Curry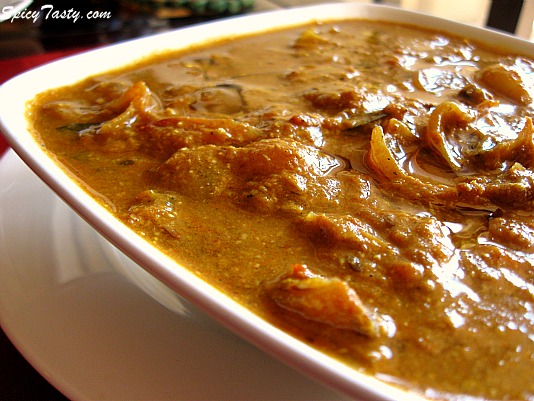 It's been three weeks since my last post. I was busy shopping and packing for my India trip. Now I am having a good time in India with my parents and in laws. I really missed blogging and couldn't wait any longer.
Coming back to the subject… Kuzhambu is a staple food in many South Indian homes. There are a number of varieties in kuzhambu. The preparation varies based on the type of kuzhambu. Chettinad Kara Kuzhambu is one of my favorite and I have had it many times in my friend's place whose native is Karaikudi, Tamilnadu. My friend gave me the recipe and here I am sharing it with you. Enjoy this dish with rice or idly/dosa.
Preparation time: 40 minutes
No. of servings: 5
Spice level: 4 out of 5
Ingredients:
Shallots – 2 cups
Tomatoes – 2
Ginger Garlic paste – 2 tbsp
Green chilies – 3
Sesame oil – 4 tbsp
Cumin seeds –  1tsp
Curry leaves – a small bunch or 10 to 15 leaves
Red chili powder – 1 tsp
Garam masala – 1/2 tsp
Sambar powder – 2 tbsp
Coriander powder – 1 tsp
Shredded coconut – 1/4 cup
Fennel seeds – 1 tsp
Poppy seeds – 1 tbsp
Tamarind water –  2 cups
Method of Preparation:
Soak shallots in water for 10 minutes and remove the skin and cut both the ends.
Cut the shallots into half.
Heat 2 tbsp of oil in a deep bottomed thick pan.
Add cumin seeds, curry leaves, shallots and slit green chilies. Fry till shallots are translucent.
Add ginger garlic paste and fry for a couple of minutes and then add chopped tomatoes.
Keep frying till tomatoes are cooked and mashed.
Add red chili powder, sambar powder, garam masala and salt.
Mix well, add 1 to 1 1/2 cups of water and let it come to a boil and leave it for 5 minutes.
Make a paste by grinding coconut, fennel seeds, poppy seeds and coriander powder in a mixer grinder by adding a little water.
In another cup of hot water add a small lemon size of tamarind, let it sit for sometime and extract the juice.
Add this juice to the boiling mixture in the pan and let everything cook and become a thick gravy.
Now add the ground paste and  let it cook for 5 to 8 minutes at medium heat.
Finally add the remaining 2 tbsp of oil and leave it for a minute and turn off the stove.
Kara Kuzhambu is ready. Serve hot with rice and potato fry.