Chow Chow (Chayote Squash) Poricha Kuzhambu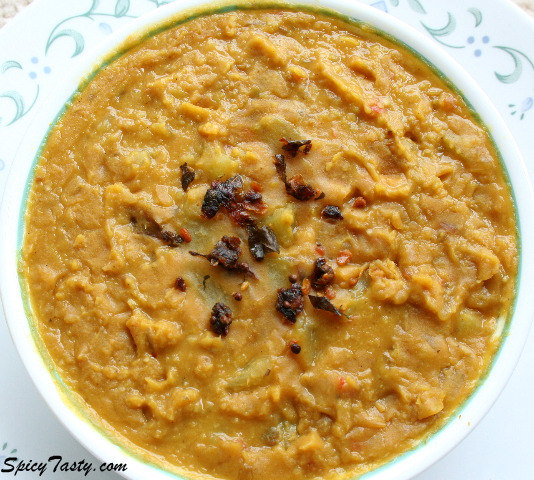 Poricha kuzhambu is a traditional dish that we usually make in my place. This is a simple and healthy recipe. The actual recipe is without onion, tomato and fennel seeds.  But I have started making this recipe with the addition of these ingredients so that it gives a little masala flavour.
Preparation time : 30 min
No of Servings : 4-5
Spice Level: 3
Ingredients:
Chayote Squash- 2 (cut to small cube size)
Onion – 1/4(finely chopped)
Tomato-1/4(chopped)
Toor dhal – 1/2 cup
Sambar powder- 1 tsp
Turmeric powder- 1/4 tsp
Salt – to taste
Hing – a pinch
Seasoning vadam – 1 tsp
Oil – 2 tsp
Masala to grind:
Grated coconut – 1 tbsp
Cumin seeds – 1/2 tsp
Peppercorn – 1/4 tsp
Fennel seeds – 1/2 tsp
Method of Preparation:
Pressure cook toor dhal with a pinch of turmeric and hing for 3 whistles.
Boil the cut chayote squash to 90% and keep it aside.
Grind the ingredients in the masala to grind to fine paste with little water and keep it aside.
Heat oil in a pan and fry the onions followed by tomatoes and add some water.
Add the turmeric powder, sambar powder and salt followed by the cut chayote squash.
Then add the thoor dhal and boil it for 5 to 10 minutes.
Then add the ground paste and allow it to boil for 5 minutes.
Fry the seasoning vadam with little oil and season it.
Serve hot with rice.
Note:
We can use cucumber, broad beans, bottle guard, mixed vegetables and will be more tastier with spinach.