Kathirikkai Gothsu – Eggplant Chutney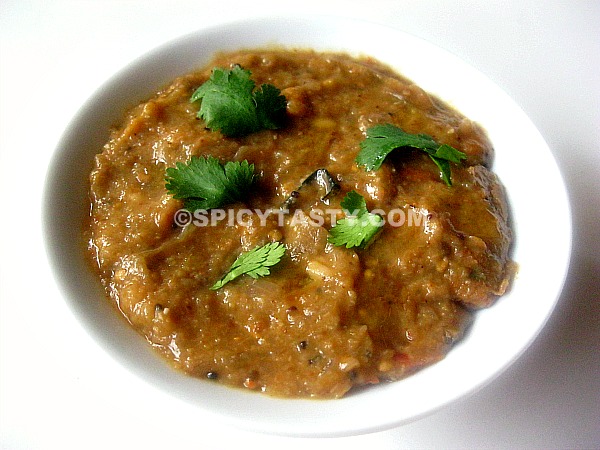 Kathirikkai Gosthu or Eggplant Chutney is an Indian condiment served along with Idli or Dosa or Upma or Pongal, etc. This method is a bit elaborated but the taste is just awesome with the flavor of moong dal. I will also post another version of this dish soon. I hope you all try this dish and send me your comments. Here you go…
Preparation time: 60 minutes
No. of servings: 6 to 7
Spice level: 3 out of 5
Ingredients:
Big regular eggplant – 1 (or small Indian eggplant – 5)
Chopped onion – 1 cup
Tamarind juice – 1 cup (prepared from 1 and 1/2 tbsp tamarind)
Moong dal (split mung bean) – 3 tbsp
Sesame oil – 4 tbsp
Asafoetida
Mustard seeds – 1 tsp
Urad dal – 1 tsp
6 to 7 Curry leaves
For masala:
Oil – 1 tsp
Coriander seeds – 1 tbsp
Dry red chilies – 8 to 10 (adjust to taste)
Shredded coconut – 2 tbsp (optional)
Method of Preparation:
Preheat oven to 350°F.
Heat a tsp of oil in a pan and add coriander seeds, dry chilies and roast until a nice aroma starts spreading. If you are adding coconut add now and turn off the stove. Mix well.
Let it cool and grind it to a fine powder.
Wash and pressure cook moong dal separately with 1/2 cup of water.
Wash and wipe the eggplant dry. Rub oil over the skin and place it in the oven for 30 minutes or until the skin becomes soft and burnt.
Alternatively, you can pan roast the eggplant with oil until the skin becomes burnt and soft. For Indian eggplants this method will be easier.
Let it cool and peel the skin off and mash the eggplant.
Heat a tbsp of oil in a pan and saute onions, add cooked moong dal, mashed eggplant, tamarind juice along with ground spices.
Add a little salt and let it come to a boil. Remove from heat.
Heat the remaining sesame oil in a pan and add mustard seeds. When they splutter, add urad dal and curry leaves.
When urad dal becomes golden brown add the tempering to the prepared eggplant gothsu.
Serve hot with dosa, idli, upma or any breakfast or tiffin items.