Matar Paneer – Cottage Cheese and Peas Curry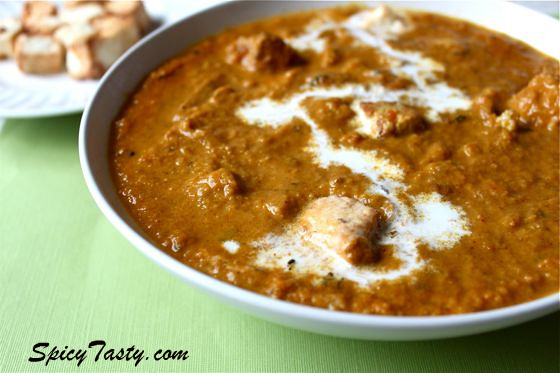 Matar (peas) Paneer (cottage cheeses) is one of the most popular North Indian dish. And it's one of my most favorite dishes too. Back home in India, whenever I go to a  restaurant I  used to order matar paneer or paneer butter masala and naan without skipping a beat.  My family and friends used to tease me for it.
I always wanted to try matar paneer in my kitchen.  I've tried Butter paneer masala so many times but never tried matar paneer.  So I tried making matar paneer and  it came out awesome, if I say so myself. As usual my best critic (my husband) loved it.  Try this yummy recipe and definitely you will love it too.
Ingredients:
Paneer cubes / Cottage cheese : 2 cups (fried paneer)
Green Peas : 1/2 cup (I've used frozen green peas)
Oil : 2 tbsp
Cumin seeds : 1 tsp
Bay leaves : 1
Cinnamon stick : 1/2 "
Red chili powder : 1 tsp
Turmeric powder : 1/2 tsp
Coriander Powder : 2 tsp
Kasuri methi : 3/4 tsp ( dry fenugreek leaves)
Heavy cream : 1/4 cup
Garam masala powder : 1/4 tsp
Onion : 1 1/2 cups
Tomato :  2  (finely chopped)
Green chilies : 4-5 ( according to your spice level)
Ginger : 1 1/2 " (chopped)
Salt : according to your taste
Method Of Preparation :
Heat oil in a kadai add onions, ginger and green chilies. Fry them for few minutes.
After that add chili powder, coriander powder and turmeric powder fry them for 3-4 minutes in simmer flame.
Finally add the tomatoes, salt and garam masala powder sautee them for another 4-5 minutes.
Remove from heat let it cool and after that grind the whole mixture into coarse paste by adding little water .
Now heat the same kadai with remaining oil and add cumin seeds, bay leaves and cinnamon stick.
After it sputters  add the ground paste into it and cook them in low flame.
Bring them to boil and after that add kasuri methi and green peas.
Cook them for about 4-5 minutes and  add the fried paneer cubes into them.
Cover it with lid and cook them for another 4-5 minutes.
Finally add the heavy cream and bring them into boil. Remove from heat.
Serve it hot with naan and roti.