Methi Malai Paneer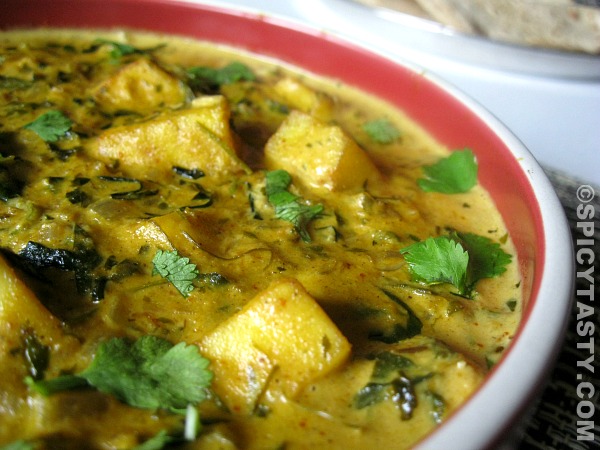 Methi Malai Paneer is a delicious Indian gravy cooked with paneer (Indian cottage cheese) and fenugreek leaves in a creamy sauce. It is served along with roti or anyIndian breads. This is a simple recipe and can be prepared quickly for a party or for everyday dinner or lunch. Whenever I go to the Indian store, I don't forget to pick a bunch of methi or fenugreek leaves. I love to make some methi dal or a gravy for my roti and rice. It has a lot of medicinal values and is nutritious. Enjoy the curry with roti or phulkas.
Preparation time: 40 minutes
No. of servings: 5 to 6
Spice level: 3 out of 5
Ingredients:
Chopped onions – 2 cups
Fresh methi leaves (Fresh fenugreek leaves) – 3 cups
Fried paneer – 1 cup (8 oz or 200 gram)
Oil – 2 tbsp
Ghee (clarified butter) – 1 tbsp
Garlic cloves – 3
A pinch of asafoetida
Turmeric powder – 1/2 tsp
Chili powder – 1 tbsp
Kasoori methi (dried fenugreek leaves) – 3 tbsp
Chicken masala or Chicken curry masala – 3 tsp (I used Shakthi masala, any brand would be fine.)
Amchur powder – 1/2 tsp
Unsalted cashew nut – 2 tbsp
Unsalted blanched almonds – 2 tbsp
Milk – 3 to 4 tbsp
Heavy cream – 1/2 cup
Salt to taste
Coriander leaves for garnishing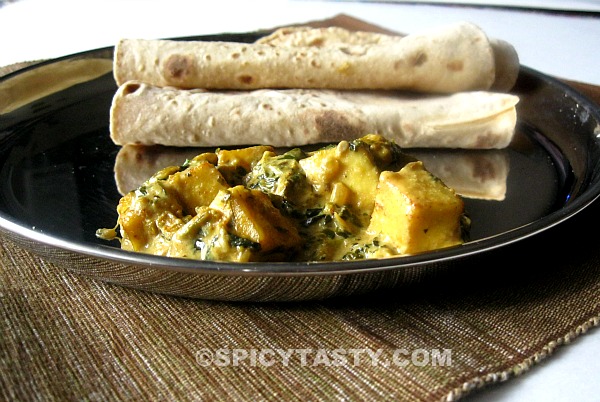 Method of Preparation:
Heat oil and ghee in a non-stick or regular pan and add a pinch of asafoetida followed by finely chopped garlic.
Add onions and a little salt and saute until onions are soft and cooked.
In between, soak cashew nut and almonds in milk for 10 minutes and grind it to a paste.
Now add the tomato puree, turmeric powder, chili powder, chicken masala. If you do not have chicken masala, you may substitute it with kitchen king masala.
Cook for minute and add amchur powder and 2 tbsp of kasoori methi by crushing it between your palms. Let it cook for 3 to 4 minutes over medium heat.
Add fresh methi leaves and saute until it shrinks. Add a little water and cook for another 5 minutes or until everything comes together.
Add fresh cream and when it starts boiling add cashew and almond paste and let it cook for 5 minutes.
Add 1 tbsp of kasoori methi and fried paneer.
Add some water and let it cook for 3 to 4 minutes. Garnish with chopped coriander leaves.
Serve hot with Roti or Pulao.