Mushroom Dry Curry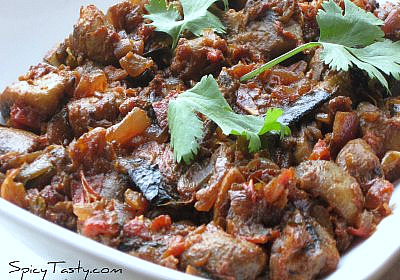 Mushroom dry curry is one of my favourite. It is so yummy that will definitely become a fan of it. My friend doesn't like mushroom but she loved this dish and want to try it. I adapted the steps from Vah Chef and made a few changes to it. Try it out and let me know if you liked it. Here you go…
Ingredients:
Cut mushroom –  3 cups
Chopped onion – 1 cup
Chopped tomatoes – 1 cup
Ginger garlic paste – 1 tbsp
Cumin seeds – 2tsp
Garli cloves – 2
Pepper  corns- 1 tsp
Curry Leaves – 1 strand
Green chillies – 2
Red chilli powder – 1 tsp
Garam masala – 1/2 tsp (fresh masla – bay leaf, 1/2″ cinnamon stick, 2 cardamom, 3 cloves)
Cumin powder – 1 tsp
Coriander powder – 1 tsp
Lemon juice – 1 tbsp
Turmeric powder – 1/4 tsp
Chopped coriander leaves – a bunch
Oil –  2 tbsp
Butter –  1tbsp
Salt
Method of Preparation:
Clean the mushrooms with paper towel and cut them to pieces.
Heat oil in a deep bottomed vessel and add the fresh masala or ready made garam masala and a tsp of cumin seeds.
When they splutter add the onions and fry till they become translucent. Now add the ginger garlic paste and toss them for 2 minutes.
Now add the curry leaves and chopped green chillies followed by chopped tomatoes.
Add some salt and cook till the tomatoes are mashed.
Add the mushroom and sprinkle some water. Cover and cook till they become soft.
Now crush the garlic, pepper and the remaining cumin seeds.
Heat another pan, add a tbsp of butter and add the crushed items and toss them.
Add the coriander leaves, cumin powder, coriander powder, chilly powder and toss them for a minute.
Now add the cooked mushroom gravy to it and combine them nicely.
Cook till the water evaporates and you get a desired consistency.
Remove from heat and garnish with coriander leaves.
🙂 Serve with chappathy/rice.