Pulinkari – Spicy Tamarind Sauce with Veggies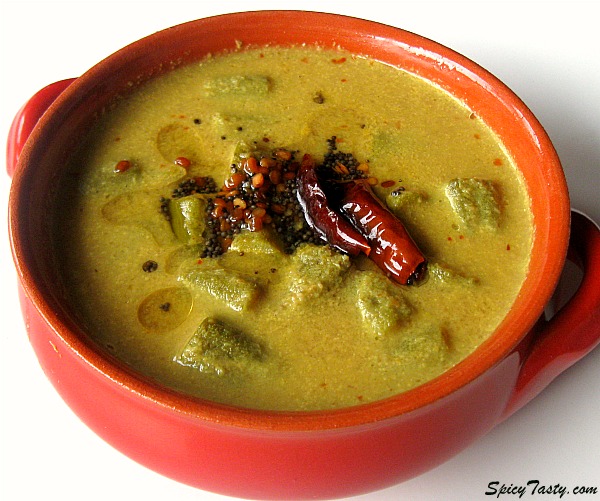 Pulinkari is a traditional dish from Kerala, South India. It is made of tamarind sauce with ground coconut and spices. It is very simple to prepare and a tasty dish. I learnt it from my mother in law who cooks very good, authentic Kerala dishes. You can prepare this dish on a busy day cause it wont take much of your time and serve it along with white rice, any vegetable stir fry and papad. Here you go…
Preparation time: 20 minutes
No. of servings: 4 to 5
Spice level: 3.5 out of 5
Ingredients:
Seedless whole tamarind – 1 tbsp
Okra or Pumpkin or colocasia or ash gourd – 1 cup
Shredded coconut – 1/3 cup
Fenugreek seeds – 1 tsp
Dried chillies – 3
Raw rice – 1 tbsp
Turmeric powder – 1/4 tsp
Oil – 1 tsp
Seasoning:
Oil – 1 tsp
Mustard seeds – 1 tsp
Urad dal or split white lentils – 1 tsp
Dry chili – 1
Method of Preparation:
Cut vegetables to small pieces. I used okra and had cut it into 3/4 inch pieces.
Add tamarind to a cup of hot water and let it sit for 2 to 3 minutes.
Heat a tsp of oil in a pan and add fenugreek seeds and dried chilies. Fry till the color changes.
Now add rice and shredded coconut and fry it for a minute.
Turn off the stove and let it cool.
Now heat the tamarind extract along with 2 more cups of water and add the cut veggies and turmeric powder.
Let it boil and veggies get cooked. If there is less water after the veggies are cooked, add one more cup.
Now grind the coconut mixture to a loose paste by adding a little water.
Once the veggies are completely cooked add the ground paste and mix well.
Let it cook for a couple of minutes and then transfer it to the serving bowl.
Now heat oil in a seasoning pan and add mustard seeds. Once they splutter, add urad dal and broken dried chili and fry till urad dal becomes golden brown.
Add the seasoning to the prepared sauce.