Soya Chunks Vegetable Pulao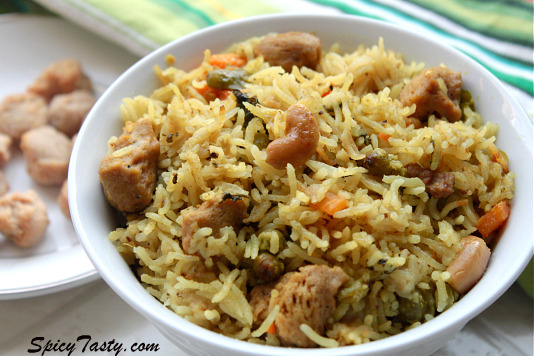 When I was a kid my mother used to make lots of dishes with Soya chunks. And being the kind of kid who eats only non-veg and hate veggies, she used to cook with soya chunks which looks just like chicken – very tender and tastes a bit like meat. So I easily agreed to eat the soyas. And after that I started liking it.
It's been a while since I cooked anything using soya chunks. Recently I went to the Indian store and I found some Soya chunks which refreshed my childhood day memories and so I bought it. I came back and made this yummy Puloa using the soya chunks and vegetables. It came out really good. Let me know if you try it.
Ingredients:
Basamati rice : 11/2 cups
Ghee : 2 tbsp
Cooking Oil : 4 tsbp
Dried Soya Chunks : 1/2 cup (washed and boiled)
Vegetables : 1/2cup(Carrots, green peas, beans)
Onion: 1 (Finely chopped)
Bay leaves : 1
Ginger : 1/2 tbsp
Coconut Milk : 11/2 cup(I've used canned milk)
water : 1 cup
Green chillies : 2-3(slit lengthwise)(You can add according to your spice level)
Coriander leaves : 5 tbsp
Mint leaves : 1/4
Fried cashews : 7-8(For garnishing)
Turmeric Powder : 1/4 tsp
Masala To Grind:
Cloves : 2
Cardamoms : 1
Dry Red chilies : 4-5 (According to your taste)
Coriander seeds : 1tsp
Cumin seeds : 1/2 tsp
Fennel seeds : 1/4 tsp
Cinnamon stick : 1″ stick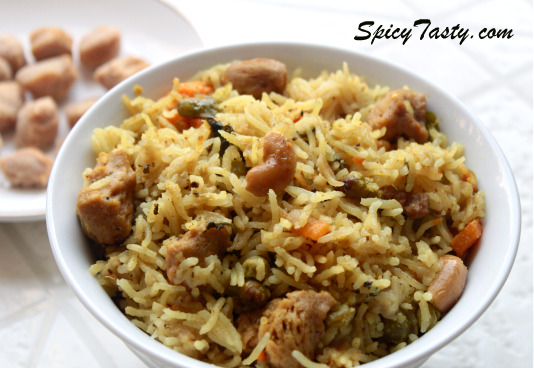 Method Preparation :
Roast all the ingredients listed in masala to grind and let it cool for few minutes.
And grind them into fine powder.
Wash and soak the basamati rice for 20 minutes.
After that drain the rice.
Heat ghee in a pan add the drained rice and lightly fry them or till it becomes little crisp probably around 3-4 minute( make sure not to change the color of the rice).
Remove from heat and keep it aside.
Now heat oil in a  kadai add bay leaves after that add onions saute it for few minutes or till it becomes translucent.
Then add the chopped ginger and green chilies fry them all for 2-3 minutes.
Now add all the vegetables and the ground masala powder ( adjust the masala powder according to the taste ).
Fry them for few minutes and add mint leaves and 3 tbsp of coriander leaves .
Mix it all together and add some salt according to your taste.
Now add the cooked soya chunks, coconut milk and water bring it to boil.
And then add  basamati rice pour a tbsp of ghee on top of it and close the lid.
Pressure the rice mixture for one whistle in medium heat.
After that remove from heat and let it sit for few minutes.
Now remove the lid add the 3 tbsp of lemon juice , 2 tsbp of coriander leaves and fried cashews .
Gently mix (make sure not to break the rice).
Serve it hot with raitha and mixed vegetable curry.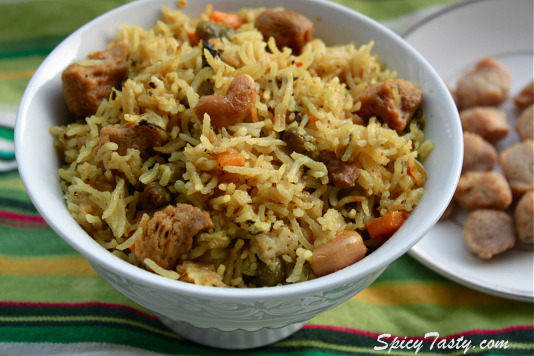 Tip: If you don't have coconut milk, grind a handful of shredded coconut (fresh or frozen) with 1/2 cup of regular milk and mix with 1 more cup of milk. Add this instead of coconut milk.