Vathakuzhambu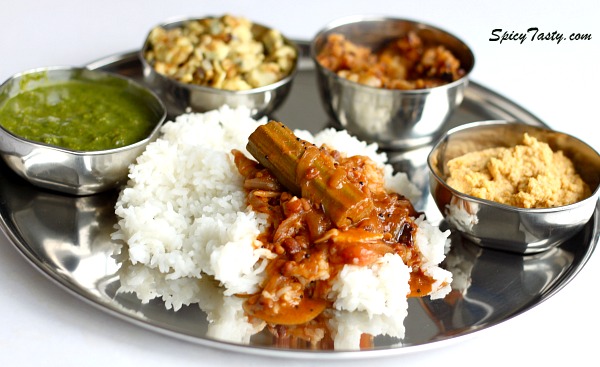 Vathakuzhambu is a South Indian delicacy prepared with tamarind extract, fresh vegetables and dried vathal. Vathal or vadagam are sun dried vegetables and condiments. Vegetables such as Manathakkali (known as black nightshade), Kothavaranga (cluster beans), Vendakkai (okra), Sundakkai (Turkey berry) are sun dried and stored in an air tight container. They have a long shelf life. Any of these can be used in this dish which gives you a nice aroma and taste. You can find these in the local stores in India or any Indian stores in the U.S. The blend of various spices brings a nice flavor to this dish. Vathakuzhambu and sutta appalam (roasted papad) along with paruppu thuvayal is the best combination to eat. I hope you try and enjoy this spicy gravy.
Preparation time: 45 minutes
No. of servings: 4
Spice level: 4 out of 5
Ingredients:
Small Onions or shallots – 1 cup (peeled)
2″ Drumstick pieces – 5 0r 6 (fresh or frozen)
Onion vathal or vadagam – 2 tbsp (optional) or Manathakkali vathal – 1 tbsp
Dried red chillies – 5
Whole tamarind – one small lemon size (or 2 tbsp)
Gingelly oil – 2 tbsp
Mustard seeds –  1 tsp
Chana dal  – 2 tsp
Fenugreek seeds – 1/2 tsp
White lentils (urad dal) – 1 tsp
Curry leaves – one sprig
Asafoetida – a big pinch
Sambar powder – 2 tbsp
Turmeric powder – 1/4 tsp
Salt to taste
Method of Preparation:
Soak tamarind in hot water for 15 minutes or until it softens. Extract the pulp and juice and keep it aside.
Heat oil in a heavy bottomed pan and add mustard seeds.
Once they splutter reduce the heat to medium and add chana dal, fenugreek seeds, urad dal, dried chillies, vathal, curry leaves and asafoetida. Fry till dal becomes golden brown.
Cut shallots into halves and quarters. Add it to the pan and saute until they become translucent.
Add drumsticks, toss for a minute and add 1/2 cup of water. Bring it to a boil and let the drumsticks cook until it becomes tender.
Now add the tamarind pulp and juice, salt, turmeric powder and let it boil for 10 minutes.
Add sambar powder and allow it boil for another 15 minutes or until it becomes thick with a kuzhambu consistency.
🙂 Serve hot with white rice and fried papad or appalam.