Idly Manchurian / Baked Idlies in Spicy Gravy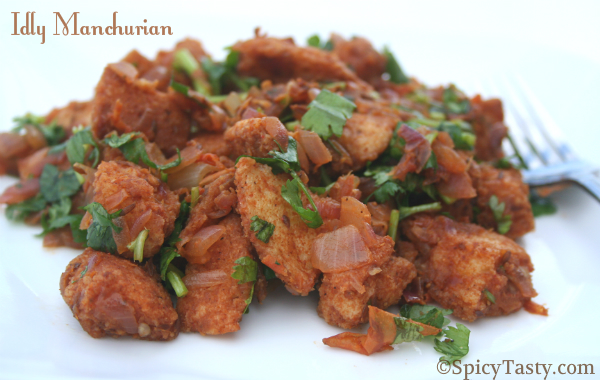 Today I wanted to make some evening snack and I remembered some leftover idlies sitting in my fridge. I thought of Idly manchurian and I did want to deep fry the idlies. Then I remembered one of my friends made this Idly Manchurian by baking them. I tried that way and they tasted so good almost equivalent to the taste of the fried idlies :).

Time of Preparation : 30 minutes
No of Servings : 1
Spice level : 4 out of 5
Ingredients:
Leftover Idlies – 4 to 5 (cut to small cubes)
Onions – 1 cup (finely chopped)
Tomatoes – 3/4 cup (finely chopped)
Ginger garlic paste – 1 tsp
Green Chillies – 2 (slit lengthwise)
Sambar powder – 1/2 tsp
Red chilli powder – 1/2 tsp
Coriander powder – 1/2 tsp
Turmeric powder – 1/4 tsp
Garam masala – 1/4 tsp
Coriander leaves – 1 tbsp (for garnishing
Oil – 2 tbsp
Salt – to taste
Cumin seeds – 1/2 tsp
Spray some oil in a baking sheet and spread the chopped idlies.
Add 1 tbsp of oil and mix well.
Preheat the oven to 400F and keep the baking tray in the center.
After 15 min, take the baking tray out and turn the idly cubes to the other side. The bottom side will be golden brown in color.
Keep the tray for another 15 minutes.
In the meantime, heat oil in a pan and add the cumin seeds.
Then add the green chillies followed the chopped onions.
Add some salt and fry till they become translucent and add the ginger garlic paste.
Then add the chopped tomatoes and fry for 2 minutes.
Now add the sambar powder, red chilli powder, turmeric powder, coriander powder and garam masala.
Fry for 2 minutes and add 1/4 cup of water.
Let it boil for 2 minutes to form a thick gravy.
Now remove the idlies from the oven and mix them to the gravy.
Garnish with coriander leaves.
Note:
While baking, we have to remove the idlies when they turn golden brown.
Also the idlies should be baked and mixed to the gravy just before the time of serving.
The actual way is by deep frying the idlies.
For that we have to cut the idlies and then fry them by mixing all purpose flour and corn flour.
The procedure is same as we do for Masala Fried Idly.