Moist Banana Crunch Muffins
Banana Crunch Muffins filled with mashed banana, walnuts and crunchy granola is moist, hearty and healthy. The moist texture and the crunchy topping is a perfect combination. You can make the batter ahead of time and refrigerate it. Just before baking, mix in the mashed banana, nuts and granola. The banana is not over powering in this recipe but if you like it add one more banana to the batter. You can also mix in some semi sweet or bitter sweet chocolate chips and your favorite nuts and seeds. These muffins are perfect for breakfast or an evening snack. No doubt that kids will also love it.
Preparation time: 20 mins
Cooking time: 25 mins
Yield: 28 muffins
Ingredients:
All purpose flour – 2 cups
Whole wheat flour – 1 cup
Baking powder – 2 tsp
Baking soda – 1 tsp
Sugar – 2 cups
Salt – 1/2 tsp
large eggs – 2
Milk – 3/4 cup
Unsalted butter – 2 sticks (1/2 lb or 227 gram)
Vanilla extract – 2 tsp
Ripe bananas – 2
Chopped walnuts – 1 cup
Granola – 1 cup (homemade or store bought)
Sweetened shredded coconut – 1 cup
Oil – 1 tbsp
More granola to top the muffins
Method of Preparation: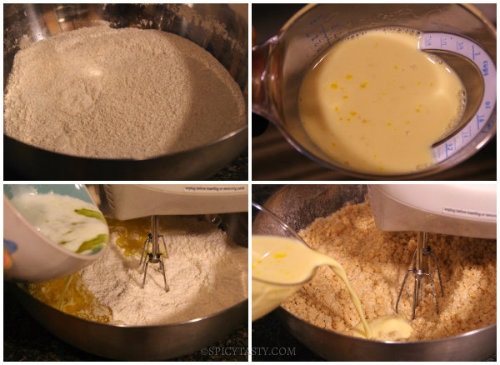 Preheat oven to 350ºF.
Sift all the dry ingredients, flour, sugar, baking soda, baking powder and salt  in a mixing bowl. Mix eggs, milk and vanilla extract in a separate bowl and set it aside. Melt butter and let it come down to room temperature.
Slowly add melted butter to flour and mix well using a stand mixer or a hand mixer. Add the egg mixture and mix everything well until smooth. Scrape the sides while mixing. Don't over mix.
Fold in mashed bananas, chopped walnuts, coconut and granola. Reserve some granola for topping. Line a muffin tray with cupcake paper liners.
Using an ice cream scoop evenly spoon the batter into the liners filling 3/4th of it.
Top it with granola and bake for 25 minutes or insert a toothpick and if comes out clean the muffins are done. Remove from oven and let it cool. Remove from tray and let it completely cool.
You can store it in an airtight container for 2 to 3 days at room temperature or freeze a batch of muffins stored in a zip lock bag for later use.