Hyderabadi Veggie Dum Biryani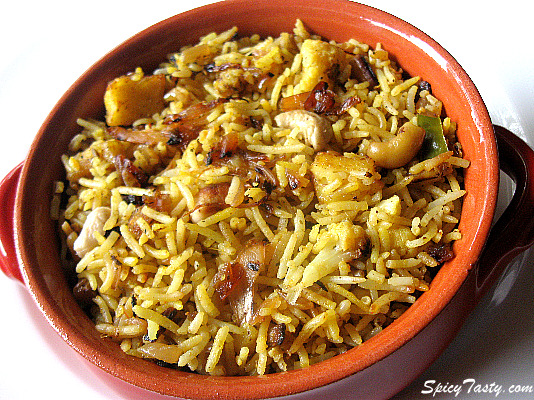 Hyderabadi Veggie Dum Biryani is a wonderful and popular dish in India. I have become a die hard fan of it recently after eating the vegetarian version of it. Being a vegetarian, it was really painful watching my friends eat this lovely biryani with meat. Finally I happened to try the vegetarian version and I just fell in love. Now I can understand why my friends are so crazy about this Biryani all the time.
I was looking for the recipe and alas! Shriya had posted Hyderabadi Chicken Dum Biryani a few months back. I just altered it a bit here and there and replaced chicken with veggies and it came out really good. So the next time this is going to be the main dish for our weekend get-together. Here you go…
Preparation time: 90 minutes
Spice Level: 3.5 out of 5
No. of servings: 5 to 6
Ingredients:
Marinade mix:
Green chillies – 5
Ginger garlic paste – 2 tbsp
Black cumin or Kala jeera – 1/2 tsp
Turmeric powder – 1/4 tsp
Red chili powder – 2 tsp
Coriander powder – 1 tbsp
Cumin powder – 1 tsp
salt – 1 tsp
Javetri or mace – 1 or 2
Yogurt – 1/2 cup
Lime juice – 2 tbsp
Bay leaves – 2
Cloves – 3
Cinnamon stick – 1″
Cardamom – 3
Whole black pepper – 7
Fresh mint leaves – 1/2 cup
Cilantro – 1/4 cup
Other Ingredients:
Basmati rice – 3 cups
Saffron – 1/4 tsp
Fried Paneer – 1 cup (optional)
Cauliflower florets – 1 cup
Potato – 1 (cubed)
1″ cut beans – 1/2 cup
green peas – 1/4 cup
Thinly sliced onions – 1 and 1/2 cups
Small bay leaf – 1
Cloves – 2
Black cumin seeds or kala jeera – 1/2 tsp
Ghee or Clarified butter – 2 tbsp
Oil – 1/4 cup
Coriander leaves – 1/4 cup
Mint leaves – 1/4 cup
Method of Preparation:
Heat a tbsp of oil in a pan and fry onions till it becomes brown and crisp.
Soak basmati rice for 20 minutes.
Heat a teaspoon of oil and add bay leaves, cloves, cinnamon stick, cardamom, whole pepper. Cool it and grind it. You can also use store bought Biryani Masala instead.
Just pulse the mint leaves and cilantro leaves separately until it forms a coarse paste.
In a bowl mix the ground masala or store bought biryani masala, mint and cilantro along with the remaining ingredients from the marinade mix. Make a paste.
Add the vegetables and paneer to the marinade, mix well and let it soak for half an hour.
Drain soaked basmati rice.
Heat a pan and add 1 tbsp of ghee and then the drained basmati rice. Roast for a couple of minutes. Make sure rice doesn't change color. Remove from heat.
Boil 6 cups of water in another heavy bottomed container and add a teaspoon of ghee or oil, one bay leaf, black cumin, cloves. Finally add basmati rice.
Cook it for 3 minutes over high heat until rice is half cooked. Strain it in a colander and keep it aside. Discard the bay leaves and cloves.
Soak saffron in 3 tbsp of hot water for 10 minutes. You can also use food color (orange) diluted in water instead.
In the same heavy bottomed pan heat the remaining oil and ghee over medium low heat, add the marinated vegetables and paneer, cook for 5 minutes or until the raw smell is gone.
Add drained rice and spread it. Pour saffron water, top it with fried onions, chopped cilantro and mint leaves.
Dum cook the biryani covering the vessel with wheat flour dough or with a thick kitchen towel. Close it with a lid tightly. Cook over medium heat for 3 minutes.
Remove from heat. Place a flat heavy bottomed non-stick pan on the heat and allow it to heat. Place the container with rice in it and cook for 40 minutes over low heat (this will make sure the bottom part doesn't burn).

A nice aroma starts spreading which means rice is ready.
Remove from heat and transfer it to a serving tray and mix gently.
Oven method:
Follow the same procedure till step 11.
Preheat oven to 375 degree Fahrenheit.
In an aluminum tray add the remaining oil and ghee, add the marinated vegetables and paneer, drained rice and the saffron rice, fried onions, cilantro and mint leaves.
Cover it with aluminum foil and place it in the oven for 40 minutes or till the rice is fully cooked.
Check for every 15 to 20 minutes minutes to avoid rice from over cooking.
Remove the tray and mix the biryani gently.
🙂 Serve hot with raitha.
I would like to submit this recipe for the event Let's Relish – Paneer by Jay.

Note: For detailed pictures and the original recipe, please refer Hyderabadi Chicken Dum Biryani.