How to make Ghee or Clarified Butter?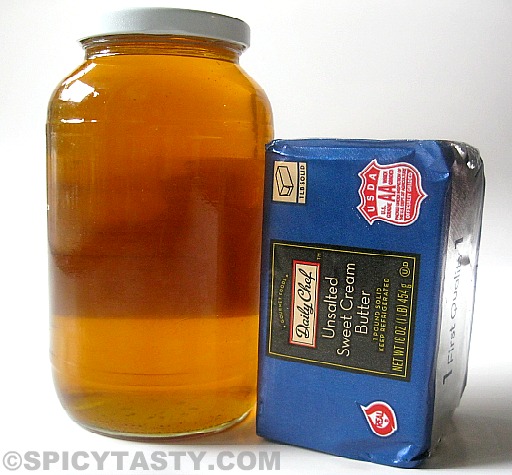 Ghee is clarifies butter and is commonly used in South Asian countries such as India. It all begins by boiling cow's milk and removing and collecting the thick layer formed on top of the milk. The thick cream is refrigerated and churned using a wooden whisker or an electric whisker until sticky and creamy butter is formed on top and the rest becomes a thick and creamy buttermilk. Straining it gives you the butter. This butter is refrigerated and ghee is prepared out of it. You can also buy unsalted butter from store and prepare ghee.  Ghee is used in the preparation of gravies, curries, pulao/ghee rice. Also used for seasoning and spreading on rotis. I hope the step by step instruction will help you to prepare ghee at home which is tasty and economical.
Ingredients:
Butter – 2 lb (1 kg)
Method of Preparation:
In a wide, deep pan or kadai melt butter over medium heat.
When butter is completely melted, reduce heat and let it boil for about 15 to 20 minutes.
It will be bubbling and making noise developing froth. Do not stir.
When the bubbling comes down and the sediments turn brown, the liquid will turn into nice and transparent shining brown giving out nice aroma.
Turn off heat. Do not let it become dark brown.
Remove from heat and let it become warm.
Transfer it to a glass container with tight lid. It will solidify after sometime.
You can store it at room temperature or refrigerate it. It will come for several months.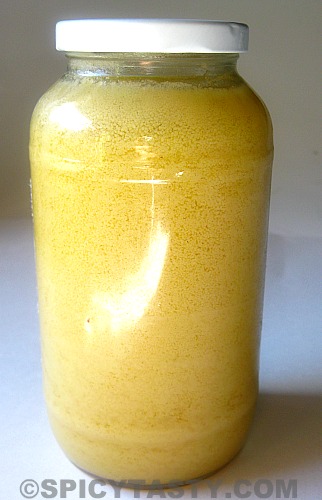 Check Out ST Giveaway