Peerkangai thogayal – Ridge Gourd Chutney
Peerkangai thogayal or Ridge gourd chutney is a simple and delicious side which can be served along with plain white rice and papad or you can serve it as a side to rasam or sambar or curd rice. I have always thought it is tough to cut and cook this vegetable until recently when I tried it for the first time. When I made this dish I was surprised to see the less quantity of chutney. I used one big ridge gourd which can serve two. You can also use the skin of this vegetable and make a delicious chutney, Peerkangai thol thogayal (Ridge gourd peel chutney).
Preparation time: 30 minutes
No. of servings: 2
Spice level: 3 out of 5
Ingredients:
Big ridge gourd – 1
Sesame oil – 2 tsp
Urad dal – 1 tsp
Dry red chilies – 5
Whole tamarind – 1 tsp
Salt to taste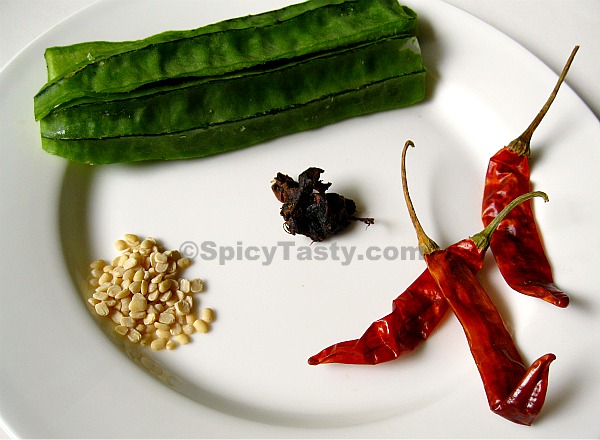 Method of Preparation:
Remove the skin of ridge gourd and cut into small pieces.
Heat a tsp of oil in a pan and add urad dal and dry red chilies.
Once urad dal becomes golden brown, remove from pan and transfer it to a plate.
In the same pan, add a tsp of oil and add chopped ridge gourd and some salt.
Cover and cook at medium heat till it becomes soft. Stir occasionally.
Let it cool and grind it to a fine paste along with tamarind, fried urad dal, red chilies and a little water (if required).
Serve along with white rice or white rice and rasam/sambar.