Puli Inji – Tangy Ginger Curry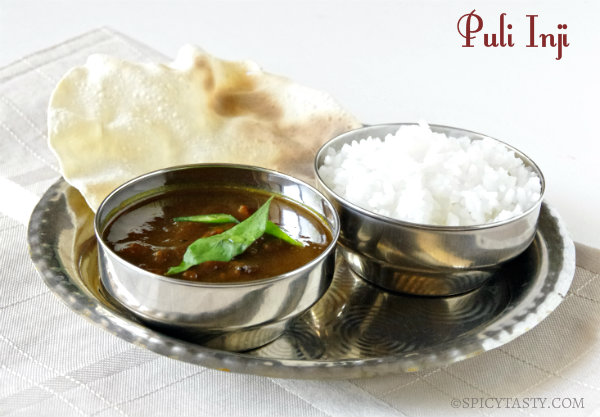 Puli Inji is a tangy and spicy dish with ginger and tamarind paste as the main ingredients. It is a perfect condiment with curd rice or any other rice. Easy to make and you can store it in the refrigerator for upto a month. It is more like pickle but tastes like Vathakuzhambu. My mother in law is here and I learnt this recipe from her. She makes authentic Palakad dishes which are simple and delicious. I am looking forward to share more recipes from her. So keep posted!!
Ingredients:
Chopped ginger – 4 tbsp
Green chilies – 2
Whole tamarind – one lemon size
Fenugreek seeds – 1/4 tsp
Mustard seeds – 1/4 tsp
Sesame oil – 2 tbsp
Curry leaves
1″ piece of jaggery
A pinch of turmeric powder
A pinch of asafoetida
Salt to taste
Method of Preparation:
Add tamarind in a cup of hot water and leave it for sometime.
Heat a tsp of sesame oil in a pan and add chopped ginger and green chilies. Saute for a couple of minutes over low heat.
Transfer the contents to a plate.
Extract juice from tamarind and discard the waste.
Heat the remaining oil in a pan and add mustard seeds. When it splutters add curry leaves, tamarind juice, sauteed ginger and chilies.
After 5 minutes add turmeric powder and salt and allow it to boil. When it starts thickening add jaggery and let it thicken.
In between, dry roast fenugreek seeds (methi) and grind it to a fine powder.
When the gravy thickens, add fenugreek powder and asafoetida and turn off the stove.
Store it in a container and refrigerate it for upto a month.