Thakklai kai Pitlai – Thick Lentil Soup with Tomatillo
Pitlai is a traditional South Indian dish. It is nothing but another type of lentil soup with a few variation in the method of preparation. This is a combination of a sambar and kootu. Bitter gourd pitlai is a famous dish and you can substitute bitter gourd with any other vegetable. Today I have used tomatillos. I have never used it before and was under the consumption that it will be like tomatoes. But today I learnt that just the outer look is like a tomato and the inner flesh is more like a gooseberry. I loved the taste. You can serve white rice and lentil soup along with papad. It is a relish. Here you go…
Preparation time: 30 minutes
No. of servings: 5 to 6

Spice level: 3.5 out of 5
Ingredients:
Tomatillo – 5
Toor dal or Split pegion peas – 3/4 cup
Turmeric powder
Whole tamarind – 1 tbsp or tamarind paste – 1/2 tbsp
Sambar powder – 1 tbsp
Chili powder – 1/2 tsp
Oil – 1 tsp
Salt – 2 and 1/2 tsp (adjust to taste)
Spice mix:
Oil – 1 tsp
Channa dal or Split chick pea – 1 tbsp
Urad dal or Split white gram- 1 tsp
Dry red peppers or chilies – 4
Coriander seeds – 1 and 1/2 tbsp
a pinch of asafoetida
Curry leaves – 4 to 5 leaves
Shredded coconut or coconut bits – 3 tbsp
Seasoning:
Oil – 1 tsp
Mustard seeds -1 tsp
Urad dal or Split white gram – 1 tsp
Dry red pepper – 1
Few curry leaves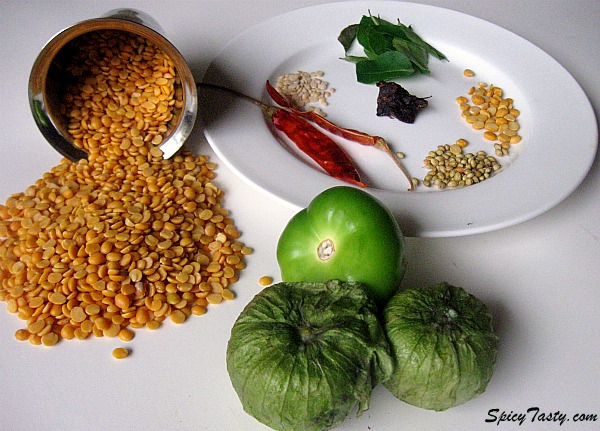 Method of Preparation:
Heat a tsp of oil in a pan and add asafoetida and channa dal. After a minute add urad dal, coriander seeds, dry red peppers and curry leaves.
Fry for a minute and add coconut and again fry for a minute. Remove from heat and let it cool.
Add some water and grind to a paste.
Wash toor dal and cook with 2 cups of water, turmeric powder and a pinch of salt in a pressure cooker or microwave oven.
Toor dal has to be mashed when you press it. Mash 3/4th of the cooked dal and mix it with the rest.
Add tamarind to hot water and let it sit for sometime.
Heat a tsp of oil in a sauce pan and add cut tomatillos and fry for a minute.
Add a cup of water and let it boil.
Extract the tamarind juice and add it to the sauce pan along with sambar powder. Let it boil and the raw smell of sambar powder be gone.
Now mix the cooked dal and ground spices.
When the tomatillos become tender add the dal mixture and let it come a boil.
Turn off the stove. Pitlai is ready.
For seasoning: Heat a tsp of oil in a small pan, add mustard seeds and let it splutter. Now add urad dal, dry pepper, curry leaves. When the urad dal becomes golden brown, remove from heat.
Add this to the pitlai and serve along with white rice and papad.