Broccoli Stir Fry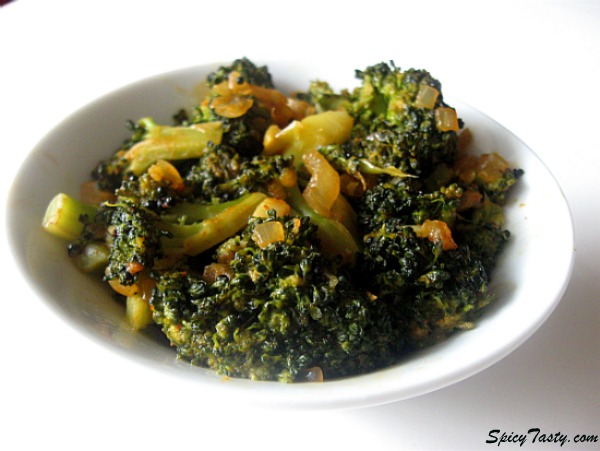 From Wikipedia

Broccoli is a plant in the cabbage family, whose large flower head is used as a vegetable. Boiling reduces the levels of suspected anti-cancer compounds in broccoli, with losses of 20 – 30% after five minutes, 40 – 50% after ten minutes, and 77% after thirty minutes.However, other preparation methods such as steaming, microwaving, and stir frying had no significant effect on the compounds. Steaming broccoli for 3–4 minutes is recommended to maximize potential anti-cancer compounds, such as sulforaphane. Broccoli is high in vitamin C, as well as dietary fiber. A single serving provides more than 30 mg of Vitamin C and a half-cup provides 52 mg of Vitamin C. Broccoli is also an excellent source of indole-3-carbinol, a chemical which boosts DNA repair in cells and appears to block the growth of cancer cells. A high intake of broccoli has been found to reduce the risk of aggressive prostate cancer. Broccoli consumption has also been shown to be beneficial in the prevention of heart disease.
I always like to add broccoli to my stir fried noodles and fried rice. My husband and I are a huge fan of broccoli and I make sure I cook broccoli at least once a week. Today I am sharing the recipe for Broccoli Stir Fry which is simple and tasty. We have it along with rasam rice, sambar rice and even curd rice. I started eating broccoli recently and I love it. For those who have not tried it yet and those who don't like it, please try to have a small serving of broccoli now and then for its nutritional value. Here you go…
Preparation time: 20 minutes
No. of servings: 3
Spice level: 3.5 out of 5
Ingredients:
Broccoli florest – 3 cups
Garlic pods – 2
Chopped onions – 1/2 cup
Chili powder – 1 tsp
Sambar powder – 3/4 tsp
Oil – 1 tbsp
Mustard seeds – 1 tsp
Salt to taste
Method of Preparation:
Steam cook broccoli florets for 4 minutes. You can either microwave it or cover and cook with less water on stove top. Do not boil it in order to preserve the nutrients.
Heat oil in a pan at medium heat or little above that and add mustard seeds.
Once they splutter, add chopped garlic followed by onions.
Fry till onions are translucent that is four to five minutes and then add steamed broccoli florets.
Give it a stir and add chili powder and sambar powder and mix well.
Cover and cook for 6 minutes. Remove the lid and toss well. Sprinkle water if necessary.
Again cover and cook for 6 more minutes and repeat it till the raw smell of chili and sambar powder goes off and broccoli florets are cooked.
Remove from heat and serve with rice and rasam/sambar or chapathi.